July 2, 2018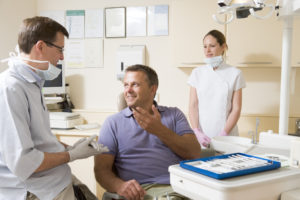 If you're in need of tooth replacement, your dentist may recommend an implant supported restoration. These tooth replacement methods are effective in restoring the entire tooth from the roots up. Most dental implant posts are crafted from high quality titanium that fuses with the supportive bone and gum tissue, mimicking the lost tooth roots. Unfortunately, these darkly colored metals can be noticeable below the gum line. For many patients, a gum tissue graft improves the chances for successful implantation, and soft tissue grafts can also be used to improve the appearance of your restored smile. In this post, we'll review some of the ways that gum tissue grafting can improve the appearance of your smile as part of a dental implant tooth replacement plan.
(more…)
Comments Off

on The Cosmetic Benefits of Soft Tissue Grafting Before Implant Restoration
August 7, 2016
A recent article by the Associated Press was met with jubilation by many people who are under the impression that they can now throw that awkward box of string known as dental floss into the garbage. The article pointed out, quite correctly, that the scientific evidence that flossing prevents oral disease is pretty sparse. But wait…Not so fast. Before you have to go dumpster diving to recover that floss, let's look at the bigger picture.
Comments Off

on IS FLOSSING USELESS?
June 30, 2016
Implant Dentistry
If your full or partial denture slips around, rubs blisters in your mouth, or falls out at inopportune moments, it's time for you to find a solution. You deserve stability in your tooth replacement! Dental implants in Daytona Beach are the answer for ill-fitting dentures. Don't wait until it's too late to benefit from dental implants — find out about implant dentistry from Dr. David Lloyd at Indigo Dental!
Comments Off

on STABILIZE YOUR DENTURE WITH DENTAL IMPLANTS IN DAYTONA BEACH