Dental Implants – Daytona Beach, FL
Regain a Brilliant and Complete Smile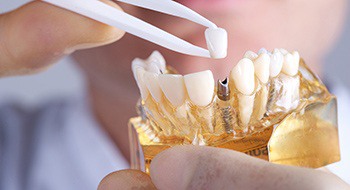 Losing even one tooth can be a devastating experience that impacts every aspect of your life -- from sharing a smile to speaking clearly and eating all your favorite foods. Finding the right tooth replacement option is essential. At Indigo Dental of Daytona Beach, we can offer a number of restoration options, but we most often recommend dental implants because they provide a number of benefits to improve oral health and function. In order to determine whether or not dental implants in Daytona Beach are the right treatment option to meet your needs, we'll need to schedule a tooth replacement consultation, in which Dr. David Lloyd will examine your smile and provide recommendations for the best treatment options. When you're ready to get started, call our dental office to schedule your tooth replacement consultation with us today!
Why Choose Indigo Dental For Dental Implants?
Flexible Payment Options Available
Partnered with Local Dental Implant Experts
State-of-the-Art Dental Technology Used
4 Step Dental Implant Process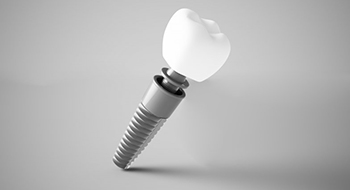 Getting dental implants is a commitment that lasts several months. Dr. Lloyd works with local dental implant specialists, so there will be an expert to explain things to you every step of the way. Each stage of the process is necessary to ensuring that you receive a beautiful, long-lasting new smile. The four main steps include the initial consultation, the implant surgery, osseointegration, and the final restoration. The procedure might look slightly different depending on your needs.
Initial Dental Implant Consultation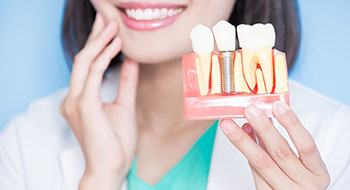 When you come to our office to ask about dental implants, Dr. Lloyd will evaluate your oral health and go over your medical history. We'll need to take X-rays of your mouth and check for signs of bone loss and gum disease; these conditions must be treated before moving on with the dental implant process. Naturally, this is also the point where we determine how many dental implant posts are needed to restore your grin. Once we've figured out what your smile needs, we can go over the timeline and explain the overall costs to you so that you can start preparing now.
Dental Implant Surgery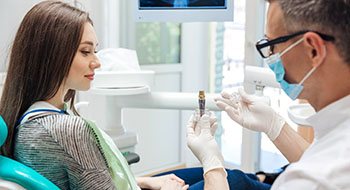 By entrusting the implant surgery to a local specialist, we increase our patients' chances of success and minimize the risk of complications arising during the treatment. When the procedure begins, the mouth is numbed, and sedation is administered if needed. Small incisions are made in the gums to provide access to the jawbone. The implants will be placed in predetermined areas where they'll provide the best possible support for a dental restoration without unnecessarily damaging existing oral structures. After the gums are closed so that they can heal, protective caps are placed on top of the implant posts.
Dental Implant Osseointegration & Abutment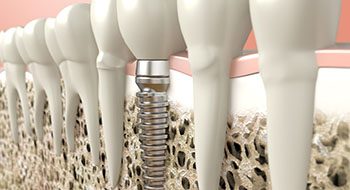 Dental implants don't just sit in your jaw; they fuse with the bone, essentially becoming part of it. This is called osseointegration, and it's what allows implants to fulfil the same functions as natural teeth. It can take several months for osseointegration to finish. Once it does, a small piece called an abutment will be attached to the implant post. This will require another minor surgery that will take a few weeks to recover from. Since the final restoration will be attached to the abutment, we have to wait until it's in place before we can take the necessary impressions.
Delivery of Dental Restoration(s)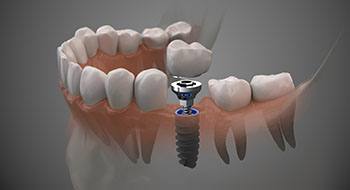 You'll come back to our office to get your permanent crown, bridge, or denture for your implants. Different levels of tooth loss require different restorations. No matter which kind you get, we'll double-check to make sure that it fits properly in your mouth and that it blends in with the rest of your teeth naturally. We'll also take the time to make sure that your new bite is comfortable before letting you leave with your fully restored smile. Afterwards, we can examine your implants during your regular six-month checkups to make sure they don't fail.
Benefits of Dental Implants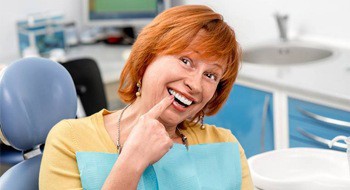 When you're considering your options in tooth replacement, you should know that dental implants take time — as much as a year to complete. But they're well worth the months spent! There is absolutely no better method of replacing one, several, or an entire arch of missing teeth. That's because of the following benefits:
Day-to-Day Benefits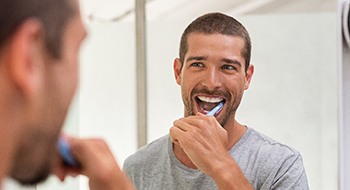 Self-confidence is restored with the ability to eat all your favorite foods, even tough and crunchy foods that a denture would struggle to break down.
When you're missing teeth, it's surprising how often you can rely on them to make certain sounds. When speaking with others, you can feel confident knowing your dental implant won't be a burden as it mimics your previous tooth's position exactly.
Whether it's time to flash your smile off for an impromptu photo op or express yourself to friends, family, or that special someone, no one will be able to tell you even had the implant placed! That's largely thanks to the ceramic materials custom-shaded to your neighboring teeth, ensuring they blend in.
Health Benefits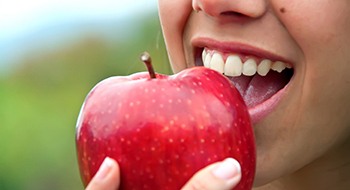 Dental implants prevent damage to enamel by restoring the root structures of teeth, making your implant restoration completely self-supporting. This protects remaining teeth and other oral structures. Unfortunately, this cannot be said for crowns or bridges, both of which require the removal of existing enamel just to be placed effectively.
The more foods you're able to eat, the easier it becomes to get the nutrients you need throughout the day. It means crunchy foods like nuts and vegetables are never a problem. Of course, indulging in a large cut of meat is also incredibly straightforward due to the improved biting force dental implants provide.
Dental implants do not require any special maintenance to keep healthy. As long as you brush twice a day, floss daily, and visit our office for regular checkups, you can have confidence in your long-term oral health.
Long-Term Benefits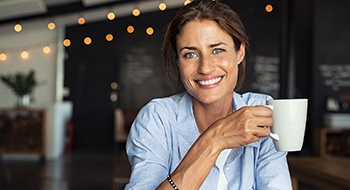 The moment a tooth is lost, the jaw's existing structure begins to break down, putting you at higher risk of future tooth loss. Dental implants maintain jawbone density and healthy gum tissue volume, promoting better overall oral health and providing the foundation existing teeth need to thrive.
Teeth supported by dental implants fit properly for years to come. Traditional dental restorations need to be replaced every five to ten years, but implant prosthetics have a 90 to 95% success rate after 20 years. With proper care, you may even be able to keep the same implant restoration for the rest of your life.
Dentures and bridges don't replace the root, which blood flow to the cheeks is greatly hindered. This results in your facial tissue sagging and your cheeks hollowing out, making you look older than you actually are. Dental implants allow proper blood flow to occur to the gums, which helps your facial tissue maintain its natural elasticity.
Who Dental Implants Can Help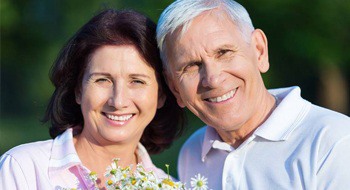 There are multiple options available for restoring your newly placed dental implants, and our recommendation will depend on the number of teeth/implants that require coverage. The fact of the matter is dental implants can be used to replace individual teeth or an entire arch with relative ease. This makes dental implants the most versatile tooth replacement option available today. Take a look below to learn if you're a likely candidate for treatment and how replacing teeth works!
Who is a Good Candidate for Dental Implants?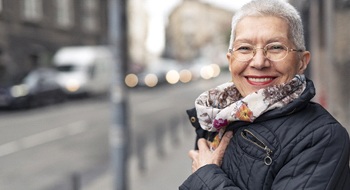 More people are eligible to receive dental implants than ever before, but that doesn't mean there aren't certain factors that come into play when determining eligibility. For example, you should have good oral health, decent overall health, and enough healthy bone tissue to receive a dental implant. Thankfully, poor oral health or low bone density can both be addressed if needed in order to help you become eligible for dental implant treatment.
Missing One Tooth
Implant dental crowns are high in quality and designed to cover a single implant post. An abutment connects the two components together to achieve long-term stability. After the implant is placed into the jaw, it is given plenty of time to integrate so it can hold its future restoration without concern. The restoration will be made from lifelike materials, ensuring only you and our office know you had a dental implant placed.
Missing Multiple Teeth
Implant dental bridges will cover the gap left by consecutive missing teeth, and they are anchored on either side of the gap by a well-placed implant post. For both consecutive and non-consecutive teeth, an implant partial denture can be attached to two to four implant posts. Implant treatment does not require removal of enamel because the implants themselves can hold restorations without relying on neighboring teeth in the process.
Missing All Teeth
Implant dentures are designed to cover four to six implants to replace a full row of teeth, and they can be fixed or removable, depending on your personal preference. This type of denture does not slip or shift out of place while in use, making it an extremely comfortable, practical, and long-lasting option for replacing an entire arch of teeth at a time. Additionally, there's no reason you can't replace both your top and bottom arch with implant dentures.
In addition to a traditional implant prosthetic, Dr. Lloyd is also proud to offer All-on-4 dentures as a revolutionary way to upgrade your removable denture! Like the name implies, All-on-4 dentures rely on the placement of just four implants as a sturdy foundation for a lifelike appliance that will feel and function just like the smile you lost. After enough planning has been performed, you can have this procedure completed in a single appointment! It essentially means you can walk into our office with an incomplete smile and leave our office with an entirely transformed appearance.
Learn More About All-on-4
Understanding the Cost of Dental Implants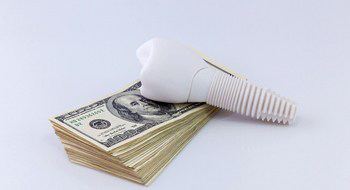 The cost of dental implants reflects the quality you can expect from your new smile. You will pay more than you would for dentures or a bridge, but your implant-retained restorations will last longer, let you enjoy more foods, and make it easier to laugh and smile without worrying about your teeth slipping out of place. Talk to our team members about what we can do to help you keep the cost of implant surgery down. Below, you'll find a brief outline of what can affect the price of dental implants and how you can pay for them more easily.
Preliminary Treatments & Dental Implant Surgery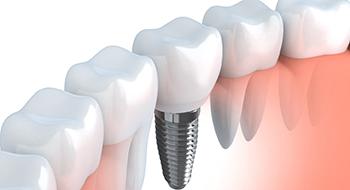 Getting dental implants is a process, and each stage carries its own costs. If you need gum disease therapy, tooth extractions, bone grafting, or another procedure, you'll have to pay for it separately. Such procedures can add to the cost, but they can mean the difference between success and failure for your new smile.
When planning the surgery, the location of the implants and the type of sedation needed must be considered in order to accurately estimate the cost. We are partnered with trustworthy dental implant experts, who will discuss with you the amount you can expect to pay for the surgery itself.
The Parts of Your Dental Implant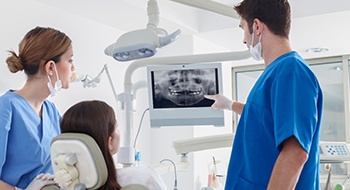 When looking at the dental implant as a whole, you'll find that there are many aspects to consider when figuring out the final price.
The more implants you need, the higher the final cost will be. For this reason, when all of your teeth are missing, it's better to get 4 to 6 implants to support a denture rather than a separate post for each tooth.
Smaller restorations such as crowns cost less than larger restorations like bridges and dentures.
Some implants are made out of zirconia instead of titanium, and the amount you pay will reflect that.
The brand of dental implant used matters, as different manufacturers accommodate to the needs of different patients. Ask us more about brand-specific benefits.
How Dental Implants Can Save Money?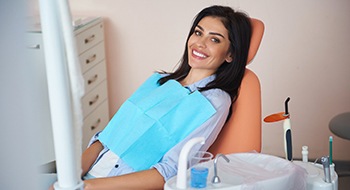 How can dental implant surgery ultimately end up being your most cost-effective solution? For one thing, you only need to pay for dental implants once; their long lifespan ensures that they don't need to be replaced as often as traditional restorations. Also, if you're getting implant dentures, then you'll avoid the need for cleaning solutions, adhesives, special pastes, or other products normally required to take care of false teeth. Finally, dental implants help maintain a healthy jawbone, which lowers the risk of various oral health issues.
Does My Dental Insurance Cover Dental Implants?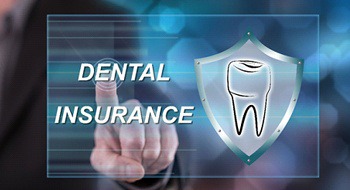 Most of the time your insurance won't pay for the implant posts themselves, but you should always check your coverage just in case. If there are any benefits you're entitled to, we'll make sure you get the most out of them. A percentage of related treatments, such as the final restoration or preliminary gum disease therapy, is often covered under dental insurance.
Making Dental Implants Affordable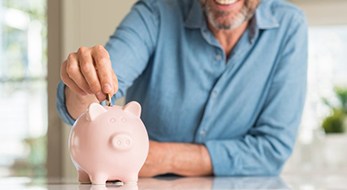 For the parts of your treatment that you need to pay out of pocket, we can help you find solutions for making payments easier, such as applying for third-party financing via CareCredit. We'll be sure to go over your options at the very beginning of the treatment so that you can be confident about staying in your budget.
Dental Implant FAQs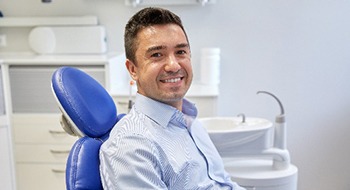 Rebuilding your smile with dental implants is a big decision, so it's normal to have questions that need answering before you're ready to commit to a treatment plan. During your consultation, we'll walk you through step-by-step of the process and will be happy to address your concerns. In the meantime, here are the answer to some of the dental implant questions we get asked most often.
Does Getting Dental Implants Hurt?
Some people hesitate to get dental implants in Daytona Beach because they don't want to deal with post-operative pain. However, there is really nothing for you to worry about. You might experience some swelling after your surgery, but your discomfort should be minimal. Many patients have remarked that the entire process of getting dental implants was much easier than they anticipated. If you do end up in pain, though, your dentist may be able to give you medication or advice to remedy the problem.
Can I Still Get Dental Implants If I Smoke?
Tobacco use increases the risk of complications during and after your implant surgery. However, that doesn't mean that you are barred from enjoying all the benefits of this treatment. Your oral surgeon will be sure to sit down with you and discuss how your smoking habit may affect your road to a restored smile.
Can Dental Implants Fail?
The vast majority of dental implant cases are successful. On rare occasions, however, something goes wrong and the implants must be removed. This may occur because of an infection in the bone that weakens the jaw to the point where it can no longer support the implants. In other cases, a medical condition that compromises the body's ability to heal stops the implants from bonding with the body.
If implants are going to fail, they usually do so within the first year after they're placed. If failure occurs after that, it might be because the person with the implant had poor habits that lead to an infection.
How Do I Take Care of My Dental Implants?
Your dentist will give you specific instructions on how to care for your mouth immediately after your implant surgery. You may need to stick to soft foods for a while and be very careful when you're cleaning around the implant site.
After you heal and the restorations on top of the implants are in place, you can resume a normal routine of brushing and flossing. You'll be able to treat your implants as if they were your natural teeth.