Dental Implants – Daytona Beach, Florida
Regain a Brilliant & Complete Smile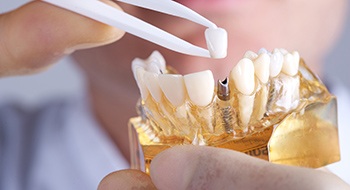 Dental implants can provide a sturdy replacement for one, two, or even a whole row of missing teeth. The total treatment time for dental implants ranges from six months to a full year, but the benefits of a secure tooth replacement are significant. Dental implants replace the missing tooth, as well as its root. When cared for properly, dental implants can stay healthy and stable for the wearer's lifetime.
Dental implants in Daytona Beach are the most effective method of tooth replacement available today. In fact, they are the only truly comprehensive solution to tooth loss. Nothing else replaces your missing tooth as well as its root. The team at Indigo Dental provides dental implants for people in and around Daytona Beach. Below, we will explore how dental implants work, a few considerations to keep in mind concerning dental implants, and who is a good candidate for implant dentistry.
Benefits of Dental Implants
When you're considering your options in tooth replacement, you should know that dental implants take time — as much as a year to complete. But they're well worth the months spent! There is absolutely no better method of replacing one, two, or several missing teeth. That's because of the following benefits:
Dental implants maintain jawbone density and healthy gum tissue volume, promoting better overall oral health.
Implant-retained dentures fit properly for years to come. Traditional dental restorations need to be replaced every five to ten years, but implant supported prosthetics have a 90 to 95% success rate after 20 years. With proper care, you may even be able to keep the same implant restoration for the rest of your life.
Dental implants prevent damage to surrounding teeth by restoring the root structures of teeth, making your implant restoration completely self-supporting and protecting remaining teeth and oral structures.
Self-confidence is restored with the ability to eat all your favorite foods, speak without impediment, and smile with ease.
Learn More About the Benefits of Dental Implants
How Do Dental Implants Work?
Dental implants have existed in some form or another for hundreds of years. The first evidence of dental implants actually dates back to 600 AD — when pointy rocks and bone were found implanted in the jaws of human skulls. Today's dental implants, however, are made of titanium and deliver a 95% success rate in eligible patients.
Dental implants work because they are made of titanium, a material that naturally integrates with bone matter. Over a period of about six months, the dental implants fuse with the jaw in a process known as osseointegration. This fusion is what provides the prosthetic tooth replacement — the crown, bridge, or denture — with unsurpassed stability.
Who Is a Good Candidate for Dental Implants?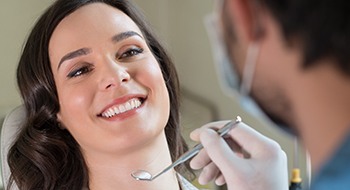 Wondering about your candidacy for implant dentistry? If so, you should schedule an appointment with Dr. Lloyd. That's the only way to know for sure whether or not dental implants are right for you. When you come in for a consultation, you and your dentist will discuss your oral and overall health to determine your eligibility for implant dentistry. In general, healthy patients are suited for dental implants. People who have already lost a significant amount of jawbone matter due to their tooth loss may require a bone augmentation procedure, like a bone graft or sinus lift, before dental implants can be considered. When preparatory surgeries are necessary, the treatment process may have to be lengthened to accommodate them.
Indications for Dental Implants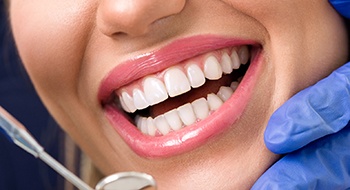 There are multiple options available for restoring you newly placed dental implants, and our recommendation will depend on the number of teeth/implants that require coverage. They include:
Missing One Tooth
Implant-retained dental crowns are high in quality and designed to cover a single implant post without negatively affecting the health of surrounding teeth.
Missing Multiple Teeth
Implant-retained dental bridges will cover the gap left by consecutive missing teeth, and they are anchored on either side of the gap by a well-placed implant post. For both consecutive and non-consecutive teeth, an implant supported partial denture can be attached to two to four implant posts.
Missing All Teeth
Implant-retained dentures are designed to cover four to six implants to replace a full row of teeth, and they can be fixed or removable.
All-on-4 Dentures
In addition to a traditional implant-retained prosthetic, Dr. Lloyd is also proud to offer All-on-4 dentures as a revolutionary way to upgrade your removable denture! Like the name implies, All-on-4 dentures rely on the placement of just four implants as a sturdy foundation for a lifelike appliance that will feel and function just like the smile you lost. This procedure can even be completed in a single appointment!
Learn More About All-On-4 Dentures
Understanding the Cost of Dental Implants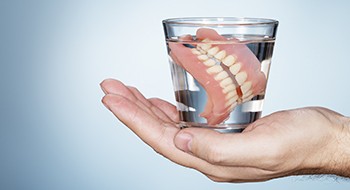 The cost of your dental implant tooth replacement plan depends on a number of factors, including:
Preparatory treatments – can include the removal of damaged teeth and use of gum or soft tissue grafts, and pricing will fluctuate depending on dental insurance coverage and the extent of treatment.
Implant placement – the number of implants needed, materials used, and the use of dental sedation during surgery can all impact the cost of this phase of treatment.
Abutment and design – the abutments are the connection pieces that attach your restoration to the implant post. Once the abutments are in place, we'll design your crown, bridge, or denture to fit together with these connector pieces.
Replacement teeth – the final factor in the cost of treatment is the replacement crown, bridge, partial, or full denture.