Advanced Dental Technology
Elevate Your Dental Care Experience
At Indigo Dental of Daytona Beach, we're proud to offer patients an office that's as comfortable as a second home and outfitted with the latest tools in dentistry. By utilizing these state-of-the-art technologies whenever possible, Dr. Lloyd is able to improve the accuracy, speed, and effectiveness of your care at every stage, from initial diagnosis to finished results. Contact our Daytona Beach, FL office if you'd like to learn more, or if you're ready to schedule your first visit with our dedicated team!
Should I Be Concerned About X-Ray Radiation?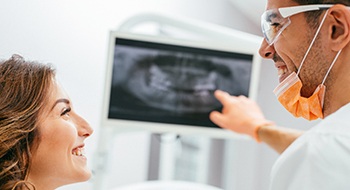 No, because the days of traditional film X-rays are over here at our practice. Instead, Dr. Lloyd has chosen to invest in Schick digital X-ray technology, which transforms this essential process in several positive ways.
For instance, darkrooms and long development times are no longer necessary – the highly detailed images of your smile are captured by our high-tech camera and available on our computer system for viewing within seconds. They can even be color-coded to improve patient education! The files can be transferred easily and stored digitally – no more bulky storage systems that aren't good for the environment. Best of all, the amount of radiation you're exposed to is dramatically reduced by up to 80% for a much safer experience.
Will Paste Be Used to Make Models of My Smile?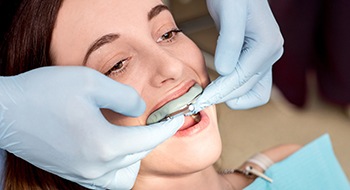 We're all familiar with this age-old process: some dental impression material will be placed in your mouth for you to hold in place to create an impression. This impression is then used to create dental crowns, dentures, or other restorative solutions – that is, if an accurate model was created. Thankfully, patients will find a revolutionary alternative here in Daytona Beach.
With the power of CEREC, it's easier than ever to create a highly detailed digital model of a patient's smile with no physical materials required! All it takes is a few simple scans, and our high-tech software constructs a three-dimensional representation of your unique teeth.