CEREC Same-Day Dental Crowns
Life Doesn't Wait, Neither Should You
A dental crown (cap) is a restoration that is placed on teeth that have lost a lot of their natural structure. For decades, rebuilding a tooth that was severely compromised by extensive decay or structural damage with a dental crown necessitated scheduling at least two appointments. At the first one, your dentist would prepare the tooth and place a temporary crown that you'd wear while a permanent restoration was made in a dental lab; this could take two weeks or more. Then, at the second appointment, the temporary was removed and the permanent crown was set. Today, your CEREC same day dentist in Daytona, Dr. Lloyd at Indigo Dental of Daytona Beach, condenses the entire process into a single appointment.
What is CEREC?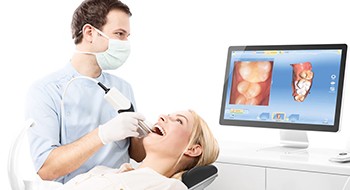 CEREC is a state-of-the-art dental system that allows Dr. Lloyd and his team to prepare your tooth, design your dental crown and place that crown in a single visit. The CEREC (Chairside Economical Restoration of Esthetic Ceramics) systems cuts out the middleman—our dental lab—and allows us to provide you with the entire process.
What is the CEREC Process?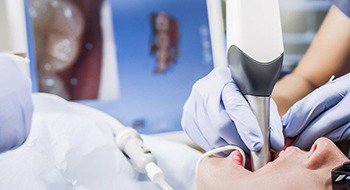 The CEREC process is really rather straightforward and in many ways similar to the two-appointment system of placing a dental crown! First, Dr. Lloyd must prepare your tooth just as he would for a traditional crown. After administering a local anesthetic, he carefully files down the sides and biting surface of your tooth. This step ensures that your new same day crown fits evenly between adjacent teeth and does interfere when you bite down.
Three-Step CEREC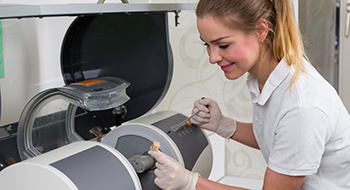 Once the tooth is prepared, we use CEREC's digital infrared camera to capture a detailed image of your tooth. Previously, we would have had to use impression material to create a mold of your tooth. That uncomfortable inconvenience is no more with CEREC. The digital images are then wirelessly transferred to the CEREC computer that is loaded with special software to design the perfect crown. Every detail of your new tooth is incorporated into this design, including shape, size, and color. Even the correct location and height of the cusps are considered. The computer software shows a 3D visual representation of your new crown, and this is used to design the new crown.
The design of your same day crown is finally transferred to CEREC's third component, the milling unit. Here, there are fine burs that carve the crown from a single block of porcelain or composite resin. The milling process takes no more than 20 minutes.
Once the crown is complete, Dr. Lloyd will check the design and make sure the fit is exactly right. The last step is cementing the CEREC same day crown over your prepared tooth.
Call our office today to find out if CEREC can provide the right dental crown for you!