Smile Repair with Inlays & Onlays
Same-Day restorations with CEREC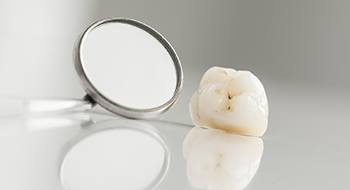 When you have a cavity or a dental injury that is too big to be mended by a simple filling, an onlay or inlay may be used. Crowns and onlays/inlays have very similar fabrication processes and after the process is finished, it is bonded or cemented to the tooth for a functional and lifelike result.
These restorations are versatile in the fact that they can be made out of so many different materials, including porcelain, gold and composite resins. When you come in, Dr. Lloyd will sit down with you, review your X-rays and other records, and help you determine whether an inlay or onlay is necessary.
As far as price range, patients can expect costs that are similar to those associated with dental crowns. This is because the process in which both restorations are made is very similar. One great benefit is that when you choose to go with an inlay or onlay, you may also pay less in the long run when compared to traditional fillings! Better yet, your new inlay/onlay can be completed in the same day with our state-of-the-art CEREC machine.
If you have any questions about inlays or onlays don't hesitate to give us a call at Indigo Dental of Daytona Beach today!