All-on-4 – Daytona Beach, FL
Restore Your Smile with Permanently Attached Dentures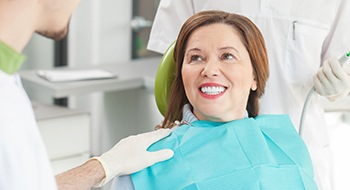 When you've lost a great deal of teeth, even the simplest of life's little pleasures like eating favorite foods or chatting with long-time friends can become difficult. Thankfully, there's a state-of-the-art solution available here at Indigo Dental of Daytona Beach: All-On-4 dentures. This procedure uses dental implants to create a sturdy tooth replacement that feels and looks just like your original tooth. If you'd like to schedule an initial consultation with Dr. Lloyd, contact our Daytona Beach, FL office today!
Why Choose Indigo Dental of Daytona Beach for All-on-4?
Partners with Local Dental Implant Specialists
Rebuild Your Entire Smile at Once
Flexible Payment Options Available
What Exactly Are All-on-4 Dentures?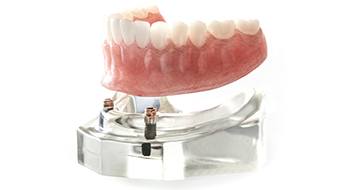 Like the name implies, All-On-4 dentures are custom-made, high-quality prosthetics that are supported by just four dental implants on the top or bottom arch of the mouth. These four implants are placed at strategic angles throughout the jawbone so that they can support the new denture, and their fixed position allows them to function like a natural smile.
How Are All-on-4 Dentures Different from Traditional Dental Implants?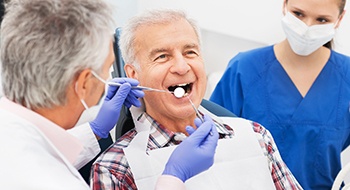 With traditional implants, six to eight implants would be required to stabilize the new denture. However, when a patient has lost many teeth, their jawbone has often deteriorated to the point that it cannot support this many implants – at least, not without a time-consuming bone grafting procedure. Thankfully, All-On-4 dentures are able to achieve very similar results while saving our patients valuable time and money!
What Are the Benefits of All-on-4 Dentures?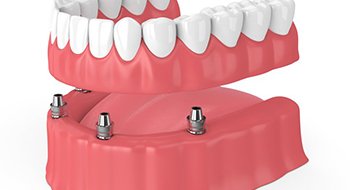 They don't have to be taken out and cleaned separately from the rest of the mouth.
The patient won't need any messy adhesives.
They prevent further jawbone deterioration.
They help support your facial features and can revitalize your appearance.
They're typically completed in a single appointment, which means you won't have to be without a strong, confident smile!