Complete Smiles with Dental Bridges
Replace Missing or Compromised Teeth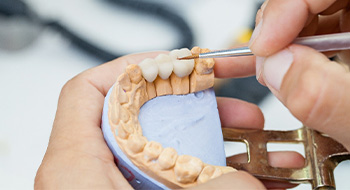 Bridges are a fairly common sight around Daytona Beach. Everyone is familiar with the Broadway Bridge downtown. Getting around would be much more difficult without our bridges. Dental bridges work in a similar fashion. They bridge the gap in your smile so you can smile confidently and chew a variety of foods. If you would like a dental bridge, Daytona Beach dentist Dr. Lloyd can custom design and place the perfect one so you can enjoy your smile once again!
Like the Broadway Bridge across the Intracoastal Waterway, a dental bridge requires sturdy support at both ends. That support is provided by the teeth that are on either side of the gap. Dr. Lloyd, your dentist in Daytona Beach, will carefully adjust these teeth so that they can support porcelain dental crowns over each one of them. Once this step is completed, we'll take an impression that our dental lab will use to craft your customized crowns and bridge. This will be a single unit that Dr. Lloyd adhesively bonds at your next appointment.
In the meantime, we'll place a temporary crown and bridge that we make in the office from the same impression. Once the permanent prosthesis is ready, Dr. Lloyd will remove the temporary. He'll check to make sure the crown and bridge fit perfectly, making minor adjustments if necessary. Then, the dental bridge is bonded into place and you have a complete smile once again!
How Do I Care for My Dental Bridge?
For the most part, caring for your dental bridge is much like caring for your natural teeth. You'll need to brush with fluoridated toothpaste and floss as well. Dr. Lloyd can give you a special floss threader that reaches underneath the bridge to clear away trapped particles of food and plaque.