July 2, 2018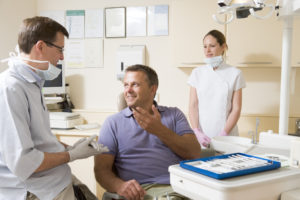 If you're in need of tooth replacement, your dentist may recommend an implant supported restoration. These tooth replacement methods are effective in restoring the entire tooth from the roots up. Most dental implant posts are crafted from high quality titanium that fuses with the supportive bone and gum tissue, mimicking the lost tooth roots. Unfortunately, these darkly colored metals can be noticeable below the gum line. For many patients, a gum tissue graft improves the chances for successful implantation, and soft tissue grafts can also be used to improve the appearance of your restored smile. In this post, we'll review some of the ways that gum tissue grafting can improve the appearance of your smile as part of a dental implant tooth replacement plan.

Complete Coverage for Roots & Implants
The soft tissue graft may be taken from another part of your mouth or collected from a tissue donor. Once in place, it can take several weeks for the gum tissue to heal. We will need to provide soft tissue grafts when there is not adequate tissue to provide the necessary support for one or more dental implant posts. Your soft tissue graft can also improve the final appearance of your smile after implant placement.
To Even Out the Gum Line
Oral health concerns and facial trauma that lead to tooth loss can have a dramatic impact on the shape of the gum line. In order to perfect the appearance of the smile, a soft tissue graft may be used to ensure the gum tissue is evenly spread across the teeth. This ensures the implant posts will have the necessary tissue to recreate the lost tooth roots, and it allows our patients to create a flawless smile.
Meet Dr. Lloyd
Your trusted Daytona Beach implant dentist, David R Lloyd, DDS, offers a wide range of tooth replacement options, including dental implant supported crowns, bridges, and dentures. If you're in need of preparatory bone or soft tissue grafting, we're happy to provide these services at Indigo Dental. When you're ready to find out more, call our state-of-the-art Daytona Beach dentistry practice to schedule a tooth replacement consultation today. During this visit, we'll sit down with you one on one to review your current oral health, past oral and overall health concerns, and possible treatment options. Then, Dr. Lloyd and his team will partner with you to create a personalized tooth replacement plan. We look forward to helping you restore your smile.
Comments Off

on The Cosmetic Benefits of Soft Tissue Grafting Before Implant Restoration
No Comments
No comments yet.
RSS feed for comments on this post.
Sorry, the comment form is closed at this time.