October 15, 2022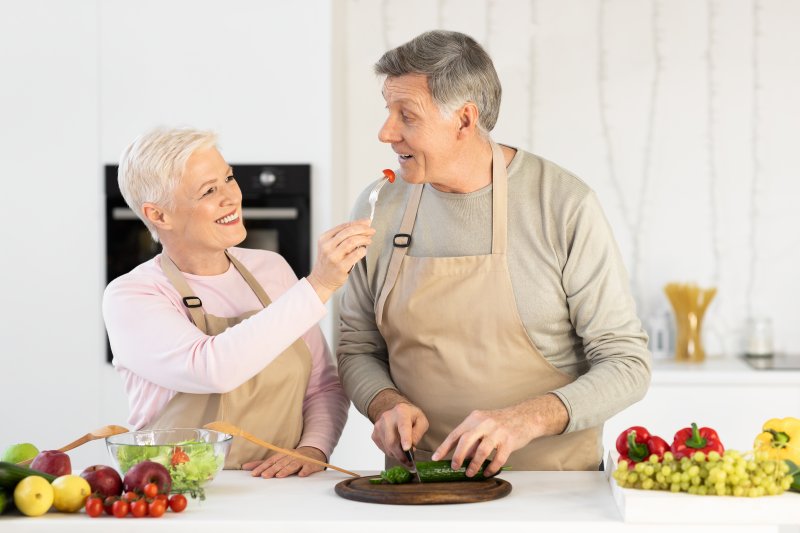 A delicious hamburger. A juicy watermelon. A creamy soup. Oh, the joys in the sense of taste! Food is not only nourishing for your body but it also adds to your pleasure in life. Your dentures also make your life more enjoyable by allowing you to eat these delicious foods! But unfortunately, they can diminish your taste sensation over time. Your dentist in Daytona Beach has all you need to know about the reasons dentures affect your taste and what you can do to keep your taste buds smiling!
Why Do Dentures Affect My Sense of Taste?
Unlike natural teeth, your dentures are made of artificial material. Though it replicates the strength and durability of your pearly whites, it can interfere with your taste sensation. But exactly why?
Full Upper Dentures
While the majority of taste buds are located on the tip of the tongue, you also have taste receptors in the roof of your mouth. Many full upper dentures use a base plate that covers the top roof of the mouth to remain securely in place. This can limit your ability to fully taste your food.
If your dentures shift or don't fit comfortably, you may have to use dental adhesive to keep them securely in place. Frequent use can leave an unpleasant metallic taste in your mouth and alter taste sensation.
Food Deposits and Stain Buildup
Without proper care and cleaning, food particles and stains will naturally build up on your dentures. These can cause a bad taste in your mouth or interfere with your taste.
What Can I Do About It?
Luckily, dentures' effects on taste can be minimalized with the right steps! These include:
Better-fitting dentures— If your dentures are snug and don't move around, there will be no need to use the bitter-tasting denture creams and adhesives that can interfere with taste.
Cleaning your dentures—When you clean your prosthetics regularly and thoroughly, it removes the build-up of food deposits and stains. This will increase the taste sensation.
Consider implant dentures—This type of prosthetic doesn't have a base plate so it won't cover the taste buds on the roof of your mouth. This will also allow you to enjoy all the various foods that give you trouble when wearing dentures.
Enjoying your favorite foods doesn't have to be a thing of your past. Dentures can impact your taste for several reasons, but there are steps you can take so your taste buds can remain happy!
About the Author
Dr. David Lloyd and his team at Indigo Dental serve Daytona Beach and surrounding communities. He graduated from the prestigious Emory University School of Dentistry and practices preventive, restorative, cosmetic, and emergency dentistry. With an emphasis on advanced technology, he offers a variety of custom-made tooth replacement options to improve your quality of life, including traditional and implant dentures. To make an appointment, visit his website or call (386) 767-4907.
Comments Off

on The Sweet and Sour Truth: Dentures & Your Sense of Taste
No Comments
No comments yet.
RSS feed for comments on this post.
Sorry, the comment form is closed at this time.