February 24, 2021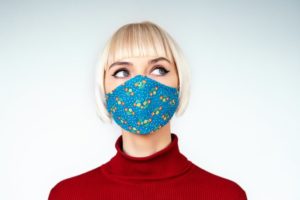 We are all hopeful that, thanks to emerging COVID-19 vaccines and decreases in the number of cases, the pandemic will soon end. For now, though, it remains a significant public health threat. You should do all you can to protect yourself! Of course, wearing a face covering, washing your hands, and practicing physical distancing can all help with that. But did you know that your oral health may also impact how the coronavirus affects you? Let's discuss research that points to a connection between gum disease and COVID-19.
The Research: Gum Disease Worsens COVID-19
A study published in October of 2020 looked at data that established a link between unhealthy gums and a high risk of respiratory failure in hospitalized COVID-19 patients. It was found that individuals with gum problems had heightened levels of a specific type of protein (IL-6), which was correlated with an elevated risk that a patient would need a ventilator to breathe. In fact, patients with an IL-6 level higher than 80 picograms per milliliter were 22 times more likely to experience acute respiratory complications!
It is also sad to note that groups who are most likely to develop gum disease, such as seniors, are also considered high-risk for other conditions that may make them more likely to develop severe COVID-19. For example, they may have diabetes or pre-existing respiratory issues. Along with gum disease and the coronavirus, such issues can come together to create a truly life-threatening situation.
The study's conductor, a dental surgeon based in Southern California named Dr. Shervin Molayem, commented, "As the death toll [from COVID-19] keeps climbing, the CDC now predicts the virus will be among the leading causes of death in the United States, just behind heart disease and cancer. Periodontitis can make it even deadlier, if you're worried that you may have gum disease, your next trip to the dentist may actually save your life."
What You Can Do
If you are experiencing any symptoms of gum disease, such as swollen or bleeding gums, you should certainly schedule an appointment with your dentist in Daytona Beach. They will examine your mouth and may recommend a form of periodontal therapy to get your oral health back on track. Scaling and root planing (a deep cleaning of the mouth) is one of the most common procedures that dentists use to fight mild to moderate cases of gum disease.
Also, keep in mind that the fear of contracting COVID-19 should not hold you back from visiting your dentist. Your local practice adheres to a strict COVID-19 dental safety protocol in Daytona Beach. The risk that you will catch the virus during your appointment is next to nothing.
Gum disease has always been a serious condition, but it is more of a threat than ever during the current pandemic. Caring for your smile might save your life!
Meet the Practice
Dr. David Lloyd is the leader of the team at Indigo Dental of Daytona Beach. He has many years of experience and cares deeply about his patients' oral and overall health. If you are concerned about gum disease, he would be pleased to help you. Contact us at 386-253-3629 to learn more about our practice and the services we offer.
Comments Off

on Can Gum Disease Make COVID-19 Worse?
No Comments
No comments yet.
RSS feed for comments on this post.
Sorry, the comment form is closed at this time.