September 1, 2020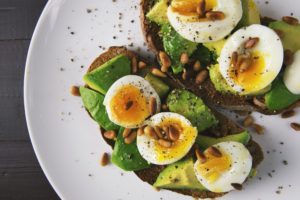 The keto diet is the latest weight loss trend to sweep the nation. You've probably heard about a few people experiencing significant weight loss using the low carb, high-fat diet. While it can have a large impact on your waistline, what role will it play in your oral health? Believe it or not, you can lose weight with the keto diet and oral health will also improve because you're eliminating a major source of dental issues. You can achieve your weight loss goals while promoting a healthy smile by consuming less sugar; however, you'll need to watch for keto breath.
Promote a Healthy Smile with the Keto Diet
The keto diet involves eating low carb, high-fat foods, like meat, cheese, and nuts, and virtually no sugar. With sugar and starches among the leading contributors of tooth decay, you can also promote a cavity-free smile through your new diet.
Although tooth decay is preventable, at least 92% of adults have had a cavity in a permanent tooth. Decay results from sugars combining with bacteria in your mouth to create an acidic plaque that can slowly erode your enamel until it creates a small hole. Since keto doesn't include high amounts of sugar, you'll reduce harmful bacteria in your mouth to keep your teeth strong and healthy.
In addition to keeping cavities at bay, the diet may also decrease your risk of gum disease, which is an infection caused by bacteria found in tartar accumulations. Researchers from the University of Freiburg in Germany report the diet can lower tartar buildup by as much as 50%, keeping your gums healthy. With at least 50% of adults in the U.S. having a form of the infection, you can help lower your risk of gum disease by changing your diet.
Managing Keto Breath
While the keto diet can improve your dental health, there's a side effect you may not love. Keto breath is common with the diet, which refers to an acetone or fruity smell. Unless it's accompanied by bacteria, it can create an unpleasant odor, also known as "dragon breath." Although you may not like the smell, it is a sign the diet is working, and you're well on your way to improved oral and overall health.
You can help neutralize bad breath by drinking plenty of water to keep your mouth moist. Be sure to maintain your oral hygiene at home. Thankfully, keto breath usually resolves within a couple of weeks.
You can invest in a healthy smile and waistline with the keto diet. If you have any questions about its effects on your smile, don't hesitate to contact your dentist in Daytona Beach.
About Dr. David R. Lloyd
Dr. David R. Lloyd is a highly experienced dentist who uses the latest advancements in oral health to promote optimal wellness for his patients. He remains current with the latest treatments, techniques, and technologies to deliver superior care. If you're ready to enjoy a better side to dentistry, contact our office today to schedule an appointment.
Comments Off

on Is the Keto Diet Good for My Smile?
No Comments
No comments yet.
RSS feed for comments on this post.
Sorry, the comment form is closed at this time.