July 26, 2019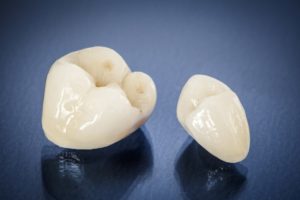 If you have severely damaged teeth or a couple at risk of breaking, your dentist may recommend dental crowns in Daytona Beach. The restorations are quite common because they are durable and effective for treating several issues, like large areas of decay or fractures. In most cases, your tooth is reshaped to allow the crown to fit over its entire visible surface, but there are some exceptions depending on your specific needs.

What is a Dental Crown?
A dental crown is a custom-made protective cap that's bonded over a tooth to restore its health, function, and appearance. Now, they are commonly made from all-ceramic material to look just like a real tooth. As a result, they not only offer restorative benefits but cosmetic advantages as well. Your dentist in Daytona Beach can use a crown to:
Treat a large area of decay.
Treat a large chip or fracture.
Protect a weakened tooth from breaking.
Along with a root canal.
Along with a dental implant.
Along with a dental bridge.
Cover dark tooth discoloration.
Improve an abnormally shaped tooth.
Does a Crown Cover the Whole Tooth?
Generally, a dental crown covers the entire visible portion of a tooth above the gum line. As a result, they provide greater strength and protection than a traditional dental filling while treating more complex issues. There are some instances when a crown will not cover the entire tooth. This is known as an onlay.
An onlay differs from a crown because it only covers the chewing surface of a cavity. The pre-molded restoration also extends over the biting surfaces of the tooth. Typically, your dentist recommends an onlay when there is a large area of decay that has weakened a tooth to the point it cannot support a traditional filling. An onlay preserves more of the tooth's healthy structure; however, it may not be as durable as a crown and may need to be replaced more often.
What Can I Expect When Getting a Crown?
It takes 2 appointments to receive a dental crown. During your first visit, your tooth is reshaped to allow the crown to fit over it. Your dentist takes an impression of your tooth to get the measurements necessary to ensure it meets your specifications. It can take the dental lab a couple of weeks to carefully craft it to meet your color, size, and shape needs, so your dentist will place a temporary crown in the meantime. After your restoration is sent back to the dental office, you return for your final visit to have it bonded to your tooth.
Save Your Smile Today
If you need a dental crown, there's no need to worry. It's made to look and feel like a real tooth. You can save your smile with a natural-looking, effective solution.
About Dr. David R. Lloyd
Dr. David R. Lloyd is a third-generation dentist who strives to help the community achieve and maintain healthy, beautiful smiles. He uses the latest techniques and methods to rebuild damaged teeth. If you need a dental crown, he can help. Contact Indigo Dental today to schedule a consultation.
Comments Off

on Do Dental Crowns in Daytona Beach Complete Cover Teeth?
No Comments
No comments yet.
RSS feed for comments on this post.
Sorry, the comment form is closed at this time.