June 9, 2023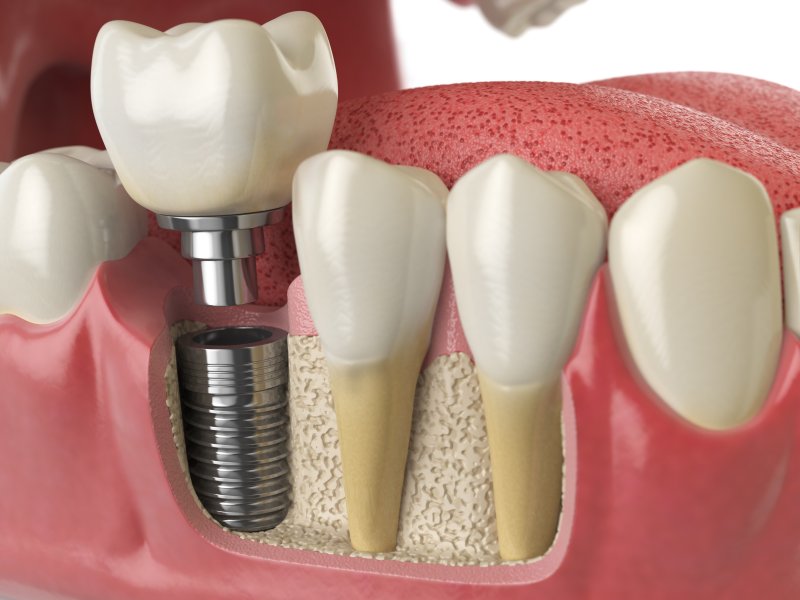 Dental implants can be a godsend for people who are missing teeth. If you've lost yours, dental implants can give you back confidence, bite strength, and peace of mind in knowing that your oral health is in good shape.
Patients who lost a tooth due to decay may wonder whether it's possible for their dental implants to succumb to the same fate. If you're curious, here's what you should know about the relationship between cavities and dental implants.
Dental Implants and Cavities
Cavities, and tooth decay generally, are a consequence of acid erosion. The mouth is host to a variety of bacteria, many of which consume sugars and excrete acids. Over time, this wears away the enamel on the surface of the tooth.
Dental implants, on the other hand, feature restorations that are typically made of porcelain. When compared to enamel, porcelain is much more resistant to acid erosion, so much so that tooth decay isn't really much of a concern.
Other Threats to Dental Implants
However, while you don't really have to worry much about tooth decay, there are still very good reasons to prevent bacterial buildup on your dental implant. Infection is the biggest one.
When bacteria really flourish on your dental implant, it's possible for them to begin to creep under the gum line and attack the bone tissue that sits underneath the surface. This is a condition known as peri-implantitis, and it's one of the most common ways that dental implants fail.
How to Keep Dental Implants Free of Bacteria
If you're concerned about the prospect of infection, it's important to try and keep up with your dental hygiene as much as possible. Thankfully, taking care of your dental implant isn't all that much different than caring for a natural tooth.
All you need to do is brush your teeth twice a day, floss daily, and use antibacterial mouthwash. This simple routine will keep you free of plaque. Finally, be sure to make biannual visits to the dentist for routine cleanings. They'll be able to scrub in places you can't ordinarily reach, keeping your dental implant nice and clean.
About the Author
Dr. David Lloyd is a highly experienced dentist who loves being able to share the power of excellent oral healthcare with members of his community. He graduated from the prestigious Emory University School of Dentistry before receiving an officer's commission in the US Navy Dental Corps. He is currently a member of the Florida Dental Association and the Academy of General Dentistry, among other institutions.
If you have any questions about dental implants, he can be reached at his website or by phone at (386) 253-3629.
Comments Off

on I Have a Dental Implant. Can I Get Cavities?
No Comments
No comments yet.
RSS feed for comments on this post.
Sorry, the comment form is closed at this time.