May 5, 2023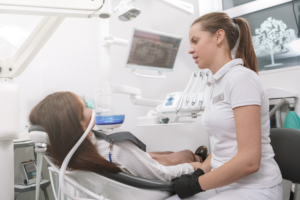 If going to the dentist's office is something you absolutely dread, you aren't alone—in fact, it's estimated that roughly 1 in every 3 people suffer from dental fear! Fortunately, nitrous oxide sedation is among the many solutions that can assist patients with comfortably getting the dental care they need. However, many people incorrectly assume that sedation dentistry always means they're going to be asleep or unconscious for their procedure—but with nitrous oxide, this is not the case! Keep reading to learn more from your trusted dentist.
What Is Nitrous Oxide Sedation?
Nitrous oxide, sometimes referred to as "laughing gas," is a safe and effective sedative agent that's mixed with oxygen and administered through a small nasal mask. After a few minutes of breathing it, patients begin to experience a warm, euphoric feeling that relaxes them. They might also feel tingling in the arms and legs, as well as some minor lightheadedness. However, patients won't begin cackling manically as the nickname implies! Once the patient is adequately sedated, it allows the dentist to carry out dental work as intended, and often with great ease.
Does Nitrous Oxide Sedation Cause Patients to Sleep?
To put it shortly, unlike general anesthesia or intravenous sedation, nitrous oxide will not put you to sleep or cause you to lose consciousness. It's true that some patients become so relaxed that they doze off, but this isn't typical. Generally, the gas makes you feel so relaxed that you'll feel like sleeping, but you'll remain conscious and responsive to verbal commands and physical stimuli throughout your visit. It is possible for patients to experience some minor side effects including mental confusion, dizziness, nausea, and fatigue, but these effects are uncommon.
Notable Benefits of Nitrous Oxide Sedation
It's worth noting that even though nitrous oxide is often utilized to assist patients with dental-related anxiety, the advantages don't stop there! Here are just a few more of the notable benefits that nitrous oxide sedation has to offer:
Safe for patients of all ages and easy to administer.
Fast-acting and is also quickly eliminated from the body.
Raises a patient's pain-reaction threshold.
Ideal for patients who have trouble remaining still for longer periods.
Allows your dentist to complete more work within a single visit.
Helps to prevent head, neck, and jaw discomfort during treatment.
Nitrous oxide is also notably one of the safest forms of sedation available, so if you're curious about your eligibility for receiving it to assist with dental care, don't hesitate to talk with your provider about your options. It's certain to make your next dental visit a pleasant experience!
About the Author
Dr. David R. Lloyd received his DDS from the renowned Emory University School of Dentistry and is a proud member of several professional dental organizations including the American Dental Association and the prestigious Academy of General Dentistry. His practice in Daytona Beach is excited to offer a wide range of treatment options including sedation dentistry for those with dental-related anxiety. If you have any questions about the blog or you'd like to schedule a visit for you or a loved one, feel free to contact Dr. Lloyd through his practice's website or by telephone for further information or assistance. Telephone: (386) 253-3629.
Comments Off

on Will I Fall Asleep If I Undergo Nitrous Oxide Sedation?
No Comments
No comments yet.
RSS feed for comments on this post.
Sorry, the comment form is closed at this time.