April 27, 2023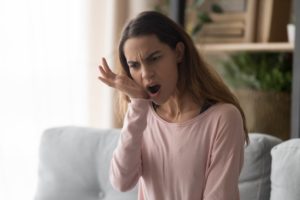 According to the National Institutes of Health, over 10 million people are estimated to live with jaw pain and dysfunction, many linked to a condition known as temporomandibular joint disorder, or TMJD. This condition can be the result of several different underlying problems, like bruxism, a past injury, or even stress, and can be treated by your dentist in many cases. However, not all instances of jaw pain are linked to TMJD. Read on to learn what problems can cause this type of discomfort and who to go to for help.
When Should You Be Concerned?
In most cases, if you feel pain in one side of your jaw, you don't need to immediately be alarmed. However, if it happens in combination with these other symptoms, you need to visit your local emergency room immediately, because you may require treatment for a more serious medical problem:
Pressure or pain in the chest that is worse when you're active and goes away when you're resting.
Tightness and pressure in the arms and chest that spreads to the neck, back, stomach, and jaw.
Shortness of breath or difficulty breathing.
Vomiting and stomach pain.
Extreme fatigue.
Lightheadedness and dizziness.
Sudden cold sweats.
Common Causes of Jaw Pain
In cases where you aren't experiencing the symptoms above alongside your jaw pain, you're likely experiencing one of three common causes of jaw discomfort:
TMJD: This condition impacts the two joints that connect your lower jaw (mandible) to your skull, allowing you to open, close, and shift your jaw from side-to-side. When these joints and the surrounding facial muscles that support them become overworked or strained, it can lead to pain, lockjaw, and facial aches.
Sinusitis: If you have allergies, you may experience sinusitis, or the inflammation of the naval cavities, that causes pain on one or both sides of your jaw.
Oral Health Problems: Other dental problems, like impacted wisdom teeth, infections, cavities, and grinding and clenching can also lead to jaw discomfort.
How Can Your Dentist Help?
If you're experiencing the most common signs of TMJD or believe you could have a lingering dental health problem, then your dentist can help. To relieve strain from your joints and facial muscles, they can craft a customized orthotic device, called an occlusal splint. Once placed in the mouth, the splint will shift the jaw into its ideal position as you sleep, relieving any additional force or tension that's typically placed on the joints and gradually minimizing your symptoms. It can also double as a nightguard if you're a chronic bruxer, or you grind your teeth at night.
About the Author
Dr. David Lloyd is a highly experienced dentist and researcher that is passionate about staying up to date with the latest advancements in his field. He has completed countless hours of continuing education and specialized training to be able to provide his patients with effective relief from jaw pain as a result of TMJD. His favorite part of being a dentist is seeing his patients' quality of life and confidence gradually improve with time when they receive effective therapy and treatments for conditions that impact their day-to-day. For questions or to schedule a consultation to learn more about TMJ therapy, visit Indigo Dental of Daytona Beach's website or call 386-253-3629.
Comments Off

on Pain on One Side of Your Jaw? Here's What it Could Mean
No Comments
No comments yet.
RSS feed for comments on this post.
Sorry, the comment form is closed at this time.