September 7, 2022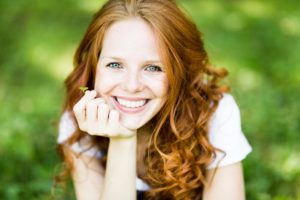 An attractive, confident smile is priceless; however, few people have flawless teeth naturally. Your gum line plays an equal role in the appearance of your smile. Too much tissue can make your teeth look short or stubby. If you have a "gummy smile," your cosmetic dentist has the solutions you need to fix small teeth in Daytona Beach. Here are 3 options to reveal a big, beautiful smile that you'll be proud to show off.
1. Porcelain Veneers
A veneer is a thin shell that's bonded to the front side of a tooth to improve its color, shape, and size. Veneers can correct several imperfections when bonded to the teeth visible when smiling. Besides making your teeth look larger, they can resolve many other issues, like stains, chips, and gaps. If small teeth aren't your only concern, veneers may be an option for you. The minimally invasive procedure can be a cost-effective option because you won't have to pay for several treatments. Not to mention, you can have a picture-perfect smile in as few as 2 appointments. Your dazzling results can last for 10 years or more with the correct maintenance, like brushing and flossing.
2. Gum Recontouring
If too much tissue is covering the surfaces of your teeth, or you have an uneven gum line, you may be a candidate for gum recountouring. A dental laser removes excess tissue and sculpts the gum line using a minimally invasive method. In some cases, it can help patients with damage caused by gum disease. You'll benefit from quick results with minimal risks of infections, bleeding, or inflammation. You will achieve the results you desire without a scalpel and sutures or a long, painful recovery.
3. Direct Bonding
Direct bonding uses a composite resin to fix minor aesthetic issues. If you have 1 or 2 small teeth, your cosmetic dentist can treat them using an affordable, convenient solution. The resin is shaded to match the color of your tooth to blend in with your enamel, so no one will know it's there. After just one appointment, you can benefit from a significant improvement to boost your self-esteem. Depending on your situation, your dental insurance might cover a portion of the cost if the procedure is medically necessary, like fixing a chipped tooth.
Which is the Right Option for Me?
Only a trained dental professional can determine the best treatment for your needs and goals. After examining your mouth and learning more about your concerns, they'll create an individualized plan to achieve your best smile.
Don't spend another day hiding your gummy smile. Contact your cosmetic dentist today to say goodbye to your small teeth.
About Dr. David R. Lloyd
Dr. Lloyd achieved his dental degree from the Emory University School of Dentistry and he regularly continues his education to provide up-to-date services. He is an active member of various professional organizations, including the American Dental Association and the Academy of General Dentistry. If you are ready to improve your smile, contact our office today to request your consultation.
Comments Off

on 3 Options to Fix Your Gummy Smile
No Comments
No comments yet.
RSS feed for comments on this post.
Sorry, the comment form is closed at this time.