August 9, 2022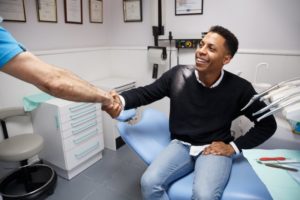 When gum disease is caught early enough, it can be treated without the need for invasive surgery. Typically, this is done with a dental deep cleaning, also known as scaling and root planing. This procedure targets the built-up plaque and tartar that have caused the condition while reducing the risk of future infection. As beneficial as a deep cleaning is, you're probably wondering how much the treatment will cost. Read on as we explore some of the variables that impact scaling and root planing cost in Daytona Beach.
What Factors Affect the Cost of Scaling and Root Planing?
Generally speaking, deep cleanings tend to cost a few hundred dollars, but the exact price can vary. Several factors must be considered, including:
Who performs your procedure – Many general dentists can perform scaling and root planing, but you might be referred to a periodontist, or gum specialist. Typically, seeing a specialist will incur higher fees.
Additional treatments – Scaling and root planing are often supplemented with topical antibiotic therapy, which eliminates bacteria in areas that dental instruments cannot reach. You may also require X-rays before determining the best course of treatment. Naturally, these steps will increase your total costs.
Sedation – Nitrous oxide and other types of sedation dentistry can make your scaling and root planing experience more comfortable, but you also have to consider their costs.
Does Dental Insurance Cover Scaling and Root Planing?
Every dental insurance plan is slightly different in the details, but most policies cover about 50% of the cost of scaling and root planing. While this can end up significantly cutting down on your out-of-pocket expenses, keep in mind that your dental plan likely has an annual maximum. If you've already exceeded this amount, you won't be able to utilize your coverage until the start of a new year.
It might be possible to save by scheduling one of your scaling and root planing procedures in December and another in January. This way, you can make sure your annual maximum doesn't go to waste while taking advantage of your new coverage that comes when the calendar changes.
Scaling and Root Planing Now May Save You Money Later
You might be tempted to avoid scaling and root planing altogether if you'd like to save money. However, taking care of this treatment now can actually be incredibly cost-effective in the long run. Gum disease is the leading cause of adult tooth loss in the United States, and a deep cleaning can stop it in its tracks. So, spending a few hundred dollars today could save you from the costs associated with removing and replacing teeth, which could be several thousands of dollars!
Scaling and root planing doesn't come with a set cost, but no matter what, this treatment is definitely a worthwhile investment in your oral health. If you're worried about the cost of scaling and root planing, don't be afraid to talk to your dentist's team about your options for affording this treatment without breaking the bank!
About the Author
Dr. David R. Lloyd provides top-quality dental care that focuses on improving patients' overall health, not just their teeth and gums. To that end, he offers expert gum disease therapy at Indigo Dental of Daytona Beach, including antibiotic therapy and scaling and root planing. His practice is in-network with several dental insurance plans and accepts nearly all PPO plans. They also offer CareCredit financing for patients who need a little extra help affording their treatments. To learn more about how much you can expect scaling and root planing to cost, contact Dr. Lloyd at (386) 253-3629.
Comments Off

on How Much Does Scaling and Root Planing Cost?
No Comments
No comments yet.
RSS feed for comments on this post.
Sorry, the comment form is closed at this time.