July 12, 2022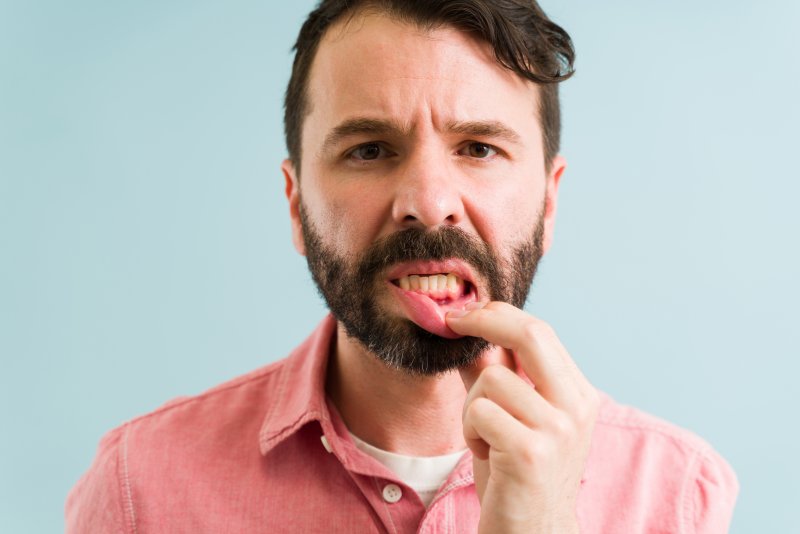 Gum disease is the leading cause of tooth loss in the United States, meaning it isn't as uncommon as people might think. More than half of the population is struggling with some form of this condition. Though it's typically a result of poor oral health, there are other components like medications and habits that can drastically increase your risk. To help you preserve a healthier smile in the long run, here are six common gum disease risk factors to look out for!
#1: Crooked Teeth & Poor Dental Hygiene
Misaligned teeth and poor oral habits can both play a major role in bacteria and plaque accumulation in your smile. If left unchecked, they can raise your risk of various health concerns, including gum disease. For this reason, remember to brush your teeth twice a day for two full minutes and floss at least once daily, especially below the gum line.
#2: Weakened Immune System, Diabetes, & Stress
The immune system is essential for keeping infections at bay. If it isn't healthy enough—due to autoimmune disorders, stress, or other conditions—your gums will be at an increased risk of developing gum disease. Be sure to implement a good oral hygiene routine to preserve a healthier smile in the long run.
#3: Lacking Nutrition & Obesity
Obesity can reduce the body's immune system significantly, placing your gums at risk of disease. Keeping a sugary, unhealthy diet can also end up fueling the harmful bacteria responsible for periodontal infection. To avoid these complications, try maintaining more balanced and nutritious meals that are low in sugar content.
#4: Grinding Your Teeth or Bruxism
Do you typically grind your teeth while sleeping? This is known as bruxism, which can put unnecessary pressure on your gum tissue, weakening and damaging it over time. If this is an issue for you, consult your dentist about receiving custom-made nightguards.
#5: Chewing or Smoking Tobacco
Tobacco is incredibly harmful to your body, including your teeth and gums. By smoking or chewing these products, you'll drastically reduce your body's ability to recover, which can interfere with any periodontal therapy you're undergoing. To protect your smile in the long term, it's best to consider quitting this habit altogether.
#6: Taking Certain Medications
Some medications may increase the chances of developing gum disease. These may include contraceptives, antihistamines, anticonvulsants, calcium channel blockers, chemotherapy, and steroids. Since these medicines can cause dry mouth, they can allow bacteria to grow and target your gums. Try drinking plenty of water to fight against this.
If you aren't certain you're at risk of gum disease, now is a good time to schedule a checkup and cleaning with your dentist. They'll be happy to monitor your oral health and address any underlying issues they find to preserve your smile!
About the Author
Dr. David R. Lloyd studied at the Emory University School of Dentistry. He's also a member of various prominent organizations such as the Academy of General Dentistry and the American Dental Association. He offers multiple advanced services, including dental checkups/cleanings and periodontal therapy. If you'd like to request an appointment, visit his website or call 386-253-3629.
Comments Off

on The 6 Most Common Gum Disease Risk Factors
No Comments
No comments yet.
RSS feed for comments on this post.
Sorry, the comment form is closed at this time.