February 15, 2022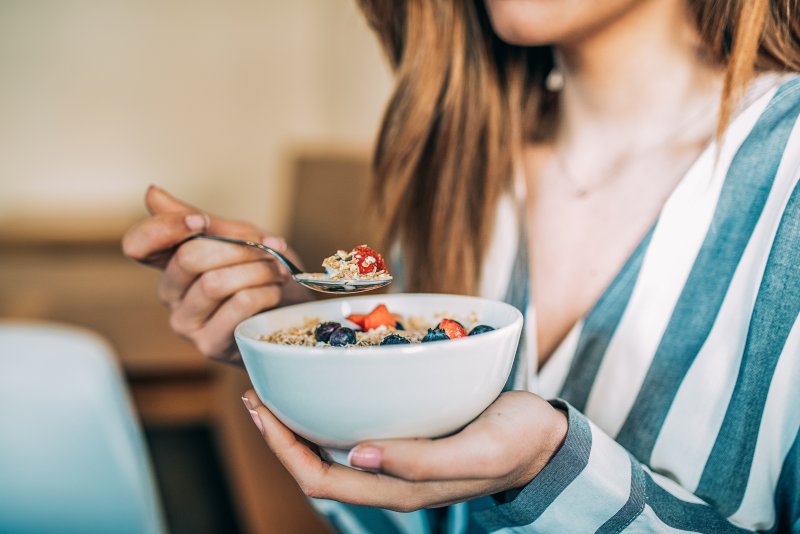 After going back and forth on what you wanted to do about replacing your missing teeth, you finally decided on dentures. As excited as you are to finally have a full, functional smile again, you've heard that they can be a bit difficult to eat with. To make it easier for you to transition into having a new and improved smile, here are four tips on eating with dentures, foods you can eat, and ones you should avoid.
Tip #1: Take It Slow
When you're first starting out, make sure to chew on both sides of your mouth. Take things slow and only consume that won't place additional stress on your gums, including:
Applesauce and other cooked or pureed fruits and vegetables
Mashed veggies like carrots and sweet or regular potatoes
Porridge, grits, oatmeal, and other cooked cereals
Tomato bisque, broth, and other smooth soups
Low-fat or fat-free yogurt, pudding, or gelatin
Smoothies, milkshakes, and juices
Scrambled eggs
Tip #2: Practice Makes Perfect
Before you go out to eat, practice biting and chewing your food at home. Cut your food into easy-to-chew pieces and eat small portions. Continue to chew on both sides of your mouth and avoid eating hot or sharp foods. Work your way up to eating firmer foods at home so you'll know the right way to chew when you go out with loved ones. ​Some solid foods you can begin incorporating into your diet include:
Soup with soft meats and cooked vegetables
Cooked greens, like collards or spinach
Soft bread, like dinner rolls
Soft, skinless fish
Baked beans
Pasta
Rice
Tip #3: Bite with Care
When biting down on foods with your dentures, make sure you use your canines instead of your front teeth. Biting foods with your front teeth will cause your dentures to slip, which may make your gums sore and uncomfortable.
Tip #4: Avoid Certain Foods
Eventually, you will completely adjust to eating with dentures. At this point, you should no longer have issues eating most foods. Even so, there are a few things that may still prove to be difficult to chew, including:
Sticky foods – Gum, candy, peanut butter, and other sticky foods can move your dentures out of place. This makes it easier for food to get stuck under them, which can irritate your gums.
Foods with small pieces – Popcorn kernels, sesame seeds, and shelled nuts can't easily be ground up or chewed. This may present problems for those who wear dentures
Hard foods – Nuts, apples, carrots, and corn on the cob require your jaw and dentures to apply uneven pressure, which can damage or dislodge your restorations.
Tough meats – Foods like pork chops, steak, and ribs require a lot of chewing to tenderize them. This places unnecessary stress on your dentures and gums. It can also create sore spots where your dentures and gums meet.
Though eating with your new teeth can take some getting used to, following these four tips will help ease you into it. Before you know it, you'll be eating full plates of food with no issue!
About the Practice
Are you having trouble getting used to eating with your dentures? Luckily, the talented team at Indigo Dental of Daytona Beach can help. They offer high-quality tooth replacement options like dentures to help you regain some of your bite power and once again have a full, healthy-looking smile. Additionally, if you're having trouble eating with your dentures, they can offer tips to help you get used to it. you'll be chowing down problem-free in no time! Call Indigo Dental of Daytona Beach's office at (386) 253-3629 or visit their website for more information on dentures or to schedule an appointment.
Comments Off

on 4 Tips for Eating with Dentures
No Comments
No comments yet.
RSS feed for comments on this post.
Sorry, the comment form is closed at this time.