October 7, 2021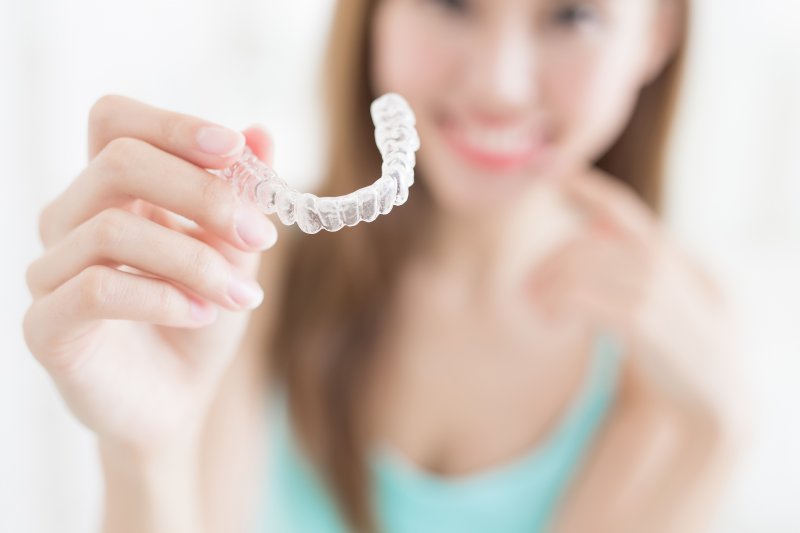 Thanks to advancements in orthodontic treatment, you can now obtain a straighter smile without the hassle of metal wires and brackets. While researching invisible braces, it may surprise you to learn that there are multiple options to consider. Invisalign and ClearCorrect are two of the more popular clear aligner solutions available – but how do you choose the right one for you? Keep reading as we discuss key differences between the two to help you decide.
What Are Invisible Braces?
Invisalign and ClearCorrect are both brands that manufacture clear plastic aligners that move teeth into more ideal positions. Treatment involves using a series of virtually invisible trays that apply constant, gentle pressure to straighten crooked, gapped, or misaligned teeth. Each set of aligners must be worn for approximately 20 to 22 hours a day. They must only be removed when eating or drinking anything that's not water or brushing and flossing one's teeth.
Who Is an Ideal Candidate for Invisible Braces?
In most cases, almost any adult with bite or alignment issues is a good candidate for invisible braces. Invisalign and ClearCorrect are both equally capable of fixing the same orthodontic problems, such as:
Crooked teeth
Overcrowded teeth
Gapped teeth
Mild overbites, underbites, or crossbites
Those with severe dental issues, such as a deep overbite or rotated teeth, may benefit from a more traditional orthodontic treatment.
Key Differences Between Invisalign and ClearCorrect
Invisalign and ClearCorrect are both excellent solutions, but how do you choose the right one for you? Let's take a look at some key differences you should consider.
Affordability
Although there's no set sticker price for Invisalign and ClearCorrect, there are cost averages. Invisalign typically ranges from $3,000 to $8,000 while ClearCorrect often runs from $2,000 to $8,000. Out of the two, ClearCorrect is usually the most affordable option. However, it's worth noting that the pricing for either option could fall outside of these ranges based on your unique case and recommended treatment plan.
Treatment Time
The average treatment time for Invisalign is 10-12 months, while ClearCorrect takes about 13.5 months. However, both brands offer different plans to treat anything from mild cases of crowding and spacing to severe misalignments that take much longer.
Material
Invisalign aligners are made from a patented material called SmartTrack. It's reportedly more comfortable and easier to take in and out, according to the manufacturer. Alternatively, ClearCorrect aligners are made from a slightly thinner material that enhances the trays' transparency. Some patients have expressed concern that the lighter material is less durable and prone to breakage.
All in all, both Invisalign and ClearCorrect offer significant advantages compared to other orthodontic solutions. If you're ready to start your journey towards a straighter smile, discuss your goals with your dentist to determine which treatment plan is right for you.
About the Practice
At Indigo Dental of Daytona Beach, we offer exceptional, state-of-the-art, compassionate dental care beyond what's anywhere else. Our team uses the latest techniques, technologies, and materials to ensure you have a fully satisfying experience. If you're unhappy with the alignment of your teeth, we can help you obtain the smile of your dreams with ClearCorrect. To learn more, visit our website or call (386) 253-3629.
Comments Off

on Invisalign vs. ClearCorrect: What's the Difference?
No Comments
No comments yet.
RSS feed for comments on this post.
Sorry, the comment form is closed at this time.