September 4, 2021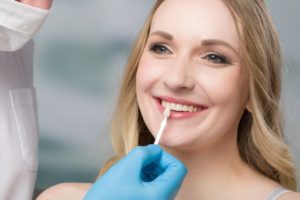 Nobody wants to be the old guy at the dance club who just doesn't seem to realize the time for him to be in that scene has come and gone. Pivoting from the discotheque to the dentist, you don't want to be that person still wearing veneers that obviously need to be replaced.
Porcelain veneers can last up to 20 years if you take good care of them. But when there are hints they've expired like old milk, it's important for you not to be the last one to realize it.
Keep reading to learn the visual indicators of veneer wear, plus reasons they can lose their secure fit. That way, you'll know when to get in touch with your dentist to talk about replacing your veneers.
How Will I Know That I Need New Veneers?
Here are some instances where you can see it is time to seek a new set:
The veneer has gotten darker. The darkening is actually the natural shade change of the dental cement, which is becoming visible through the veneer. If this has occurred, there is no way to lighten the cement and it must be removed along with the old veneer.
Stains can not be removed anymore. Veneers can be stained from certain foods and beverages just like your teeth. Stains on veneers can only be removed through intense brushing. When that does not work any longer, it is time for replacement.
The veneer is cracked, chipped, or worn down. Veneers are durable, but they can break or wear out if treated roughly. When they are worn, veneers become rough around the edges and you can feel it with your tongue.
Why Don't My Veneers Fit Securely Anymore?
There are several reasons this can happen, and the bottom line is they will need to be replaced.
The tooth supporting the veneer has decayed. A house is only as sturdy as its foundation, and so goes the situation for your veneer if the tooth underneath it is decayed.
The veneer has separated from your gums. Poor oral hygiene can lead to gum disease. One of the many problems with gum disease is that it can create a gap between your veneers and gums.
The veneers were not properly applied. If the dentist did not apply your veneers correctly with a strong dental cement, they can eventually loosen or fall off.
Your veneers are the wrong size. Your mouth should have been measured beforehand to ensure the veneers fit properly, but if not, they could be painful in addition to fitting poorly and a new set will be required.
They can be a long-term solution for your smile, but when the day comes for veneer replacement it's essential to acknowledge it and make an appointment with your dentist.
About the Practice
Dr. David Lloyd is committed to continuing education in order to offer his patients the latest advancements in oral health and aesthetic dentistry. He is proud to be a third-generation dentist serving the Daytona Beach community. Whether you are considering porcelain veneers for the first time or if you suspect your current set could be due for replacement, Dr. Lloyd is ready to assist you. To schedule an appointment, visit his website or call (386) 253-3629.
Comments Off

on Smile Substitution: It's Time to Get New Veneers
No Comments
No comments yet.
RSS feed for comments on this post.
Sorry, the comment form is closed at this time.