August 14, 2021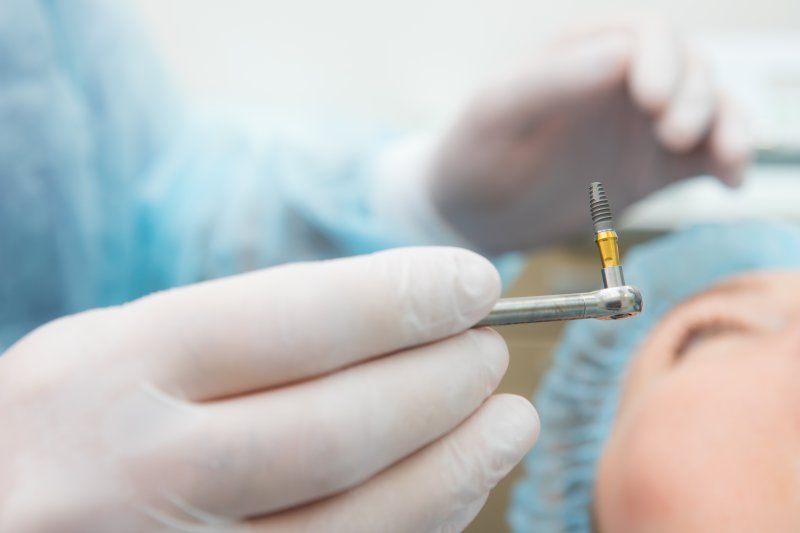 It's natural when learning that you need to have a tooth removed that you would want to have it replaced as soon as possible. No one wants to go too long with a gaping hole in their smile. But unfortunately, it's not up to you when you can have dental implants after a tooth extraction. Instead, your dentist will base the timeline of your new smile on how many teeth must be removed, if other oral health problems exist, and the current status of your jawbone. Read on to learn more about a typical timeline and when you can expect to start enjoying your full, complete smile.
Immediate Dental Implant Placement
Although rare, a patient can receive their dental implant immediately after having their tooth removed. This only occurs when the soft oral tissues (gums) are healthy and there is enough jawbone to support the titanium post. Typically, individuals who experience facial trauma and require the removal of a tooth may be eligible for this form of treatment.
Having a dental implant put into place not only allows the patient to forgo any time spent with a gap in their smile, but it also prevents any potential bone loss. Once it is surgically implanted into the bone, a protective cap is placed over it before the individual is sent home to recover. After several months of healing, a metal abutment is put into place on top of the implant before a customized dental crown is secured, creating the finalized smile.
2-3 Months Post-Tooth Extraction
Individuals who have unhealthy gum tissue or another type of infection will need to wait two to three months before receiving a dental implant. The reason is that proper treatment must be administered once the tooth is extracted. The bacteria remain in the vulnerable area and must be treated to ensure it does not spread and impact other healthy teeth.
Once the dentist believes the gums are in a better place to receive a dental implant, the surgical portion of treatment will be scheduled. The reason it's best not to wait more than three months to perform the implant placement is because of the risk of additional bone loss, which cannot be retrieved without a bone graft.
3-6 Months After a Tooth Extraction
The only reason a dentist will wait an extended period after tooth removal to place a person's dental implant is if the jawbone is not sufficient. When too much time passes and the bone deteriorates, the only solution is to perform a bone graft, which requires an invasive procedure. Implanting grafting materials from the person's body or a donor, the new and existing bone must fuse and strengthen over time, creating a firm foundation. This can take several months.
However, once fully healed from the bone graft, a person can then receive their dental implants and begin the process of achieving a healthier, longer-lasting smile.
It may seem unfair to wait so long before receiving your new prosthetics. However, if you want to ensure their success in the future, it's best to follow your dentist's orders and let them determine the right time for dental implant placement.
About the Author
Dr. David Lloyd is a dentist in Daytona Beach who graduated from the Emory University School of Dentistry before accepting an officer's commission in the U.S. Navy. After completing a General Practice Residency program at Naval Hospital-Oakland, he eventually settled in Daytona Beach and opened Indigo Dental. Partnering with local dental implant experts, he and his team can ensure individuals who desire permanent prosthetics to replace their missing or extracted teeth will enjoy long-lasting results. If you are wondering how long you'll need to wait to receive your customized dental implant after tooth removal, contact us at (386) 253-3629.
Comments Off

on What is the Timeframe for Receiving Dental Implants After Tooth Removal?
No Comments
No comments yet.
RSS feed for comments on this post.
Sorry, the comment form is closed at this time.