January 5, 2021
If you have complex dental problems throughout your mouth, it helps to take a comprehensive approach to restoring your oral health and improving your smile aesthetics. In these situations, a full mouth reconstruction in Daytona Beach may be just what you need. As you continue reading, discover 5 treatment options for you to consider.
The Full Mouth Reconstruction Process Explained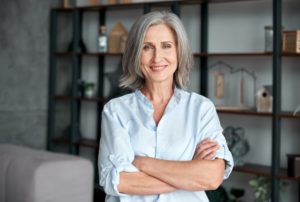 Any dental treatment that affects all the teeth is considered a full mouth reconstruction. Instead of fixing multiple issues individually, this approach involves you and the dentist pre-planning your brand-new smile. To get the job done, you may need a combination of treatment options. Thus, it's important to work with a dentist who can provide comprehensive and effective care.
#1 – Inlays and Onlays
When there is a cavity or injury that is too big to be repaired with a filling, an inlay or onlay may be used. Both procedures are similar to a replacement crown in fabrication, and the final restoration can be made from porcelain, gold or composite resin.
#2 – Crowns
In cases of severe tooth damage, as when root canal therapy is needed, dental crowns will be placed. These are advanced restorations that are designed to strengthen and protect damaged or decayed dental structures.
#3 – Bridges
Similar to the structures you see around your city, dental bridges span the gap in your smile to allow you to grin and chew with confidence. They are custom designed to perfectly fit in your mouth, so you can enjoy a normal life again.
#4 – Dentures
Whether you're missing multiple or a complete set of teeth, dentures can restore your smile. Prosthetic teeth are attached to a pink-resin base that looks like your gums. Traditional dentures are removable and held in place with denture adhesive and the suction created inside the mouth. However, there is also the option of receiving implant-retained dentures.
#5 – Dental Implants
By far, dental implants are considered to be the most reliable form of tooth replacement available. They are unique in that they are attached beneath the gum line, to provide a level of security that closely matches that of the original tooth root.
The procedure involves the dentist placing a titanium post, that fuses with the underlying jawbone. Once the fixture is secured and the surrounding area heals, an abutment is added that allows a replacement crown, bridge or set of dentures to be fastened in place.
The preservation of your teeth is always the dentist's primary aim, but when a full mouth reconstruction is needed, you can take comfort in knowing that there are effective solutions available. To learn more about what will work best for you, pay your dentist in Daytona Beach a visit.
About the Author
Dr. David R. Lloyd is a graduate of Emory University School of Dentistry. As an experienced dentist and member of the Academy of General Dentistry, he possesses the unique skillset necessary to provide comprehensive dental care. Dr. Lloyd performs full mouth reconstructions at Indigo Dental of Daytona Beach, and he can be reached for more information or to schedule a visit through his website.
Comments Off

on 5 Full Mouth Treatment Options for a Healthier Smile
No Comments
No comments yet.
RSS feed for comments on this post.
Sorry, the comment form is closed at this time.