October 26, 2020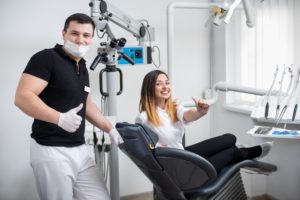 Are you ready to invest in the beautiful smile you deserve? Your first step to boosting your self-esteem is to schedule an appointment with your cosmetic dentist in Daytona Beach. As you wait with anticipation for your upcoming visit, you will want to prepare for your consultation to receive the exact results you want using an individualized treatment plan. Here are a few tips to keep in mind before heading to the dental office.
Preparing for Your Consultation
During your visit, your cosmetic dentist will carefully examine your teeth and evaluate your smile. After performing their examination, they will discuss the results you want to achieve. To ensure you are both on the same page, take a few minutes to jot down a few important tidbits to tell your dentist:
Note any concerns you have about the appearance of your teeth, such as their color, positioning, or size.
Write down any issues with your teeth, like untreated cavities, chips, or sharp edges.
Make a reminder of any bad oral habits, like grinding or clenching your teeth or chewing on pens.
Besides your notes, bring along pictures of celebrity smiles you admire to give your dentist a visual of your expectations.
Questions to Ask Your Cosmetic Dentist
Your cosmetic dental consultation in Daytona Beach provides the perfect opportunity to learn more about the dentist you're considering for your smile transformation. It's best to ask them a few common questions to ensure they are the ideal choice to reach your goals.
Do you have any advanced training in cosmetic dentistry or specialty treatments?
How much experience do you have in particular procedures?
What are the benefits of cosmetic dentistry?
Are there any risks involved?
How long will my results last?
Will I need a sedative or local anesthetic?
How long is the recovery process?
What are the estimated costs?
Do you offer payment plans?
Choosing the Right Cosmetic Dentist
Not all cosmetic dentists are the same. It's best to consider all your options, even if you need to get a second opinion. Here are a few things you'll want to consider to choose the right dentist for your dream smile:
Review their qualifications and experience.
Look for continued education.
Choose a convenient location.
Read online testimonials and reviews.
Choose flexible office hours.
Accept several payment options.
Embrace the latest technologies.
Invest in a Radiant Smile
You can change your outlook on life by investing in an attractive smile. Spend a few minutes preparing for your consultation for a seamless process of enhancing your smile.
About Dr. David R. Lloyd
Dr. Lloyd is a graduate of the prestigious Emory University School of Dentistry. He has completed advanced training in aesthetic dentistry to create radiant smiles using the latest solutions in cosmetic dentistry. As a member of the American Academy of Cosmetic Dentistry, you can feel confident knowing your smile is in good hands. Contact our office today to schedule your consultation for cosmetic dentistry.
Comments Off

on Preparing for Your Cosmetic Dentistry Consultation
No Comments
No comments yet.
RSS feed for comments on this post.
Sorry, the comment form is closed at this time.