October 23, 2020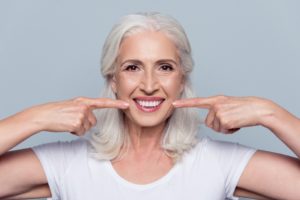 If you're missing a couple of teeth, your self-esteem took a hit with each tooth you've lost. Nowadays, you have more options than ever to fill the empty spaces, but only one looks and feels natural. A dental implant not only treats the entire tooth structure, but it also offers exceptional aesthetic advantages. Here are 3 cosmetic benefits of dental implants in Daytona Beach to achieve the beautiful smile you deserve.
1. Preserves a youthful appearance.
When you lose even a single tooth, your jawbone will slowly deteriorate because it isn't being stimulated by the root. As time passes, the bone resorption can cause inadequate support for your remaining teeth, which might cause them to loosen and fall out. If you lose more teeth and your jawbone continues to shrink, your facial tissues can sag. You may have a sunken or wrinkled appearance that makes you look years older than your true age.
A dental implant is the only treatment to stop bone loss. A titanium post is surgically placed into the jawbone to serve as a root. This encourages new bone growth to preserve your natural teeth to prevent them from falling out. This also helps you maintain a youthful look by stopping premature wrinkles and sagging skin.
2. Unmatched stability for peace of mind.
Besides an incomplete smile, nothing is more embarrassing than having your partial or denture slip when you are talking or eating. Although new technologies have improved the fit and function of traditional dental prosthetics, they will always have their limitations.
You don't need to stress about your denture falling out anymore. You can have it anchored to your jawbone using 4 to 10 implant posts. Your jaw will fuse to each one through a process called osseointegration. This provides unmatched support and stability for your replacement teeth, permanently eliminating any slipping or irritation.
3. Smile confidently with a natural-looking solution.
Let's face it, bridges, dentures, and other traditional tooth replacements have a bad reputation for looking fake. You don't need to worry about someone noticing your teeth are fake when choosing dental implants.
No matter if you are missing a single tooth, multiple teeth, or an entire arch, your new teeth are carefully crafted from all-ceramic material to match your real ones. They will look completely natural, so no one will know they aren't your own when laughing, smiling, or taking pictures.
Invest in a Radiant Smile
If you have an incomplete smile, it's time to invest in a confident future with the help of your cosmetic dentist in Daytona Beach. They'll rebuild a beautiful smile you'll want to show off.
About Dr. David R. Lloyd
Dr. Lloyd earned his degree from the prestigious Emory University School of Dentistry. He regularly continues his training to provide many specialty services, like aesthetic dentistry. If you have damaged or missing teeth, he can rebuild your smile using the latest treatments, like dental implants. Contact our office today to schedule your consultation.
Comments Off

on 3 Cosmetic Benefits of Dental Implants
No Comments
No comments yet.
RSS feed for comments on this post.
Sorry, the comment form is closed at this time.