July 26, 2020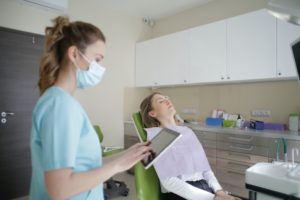 There is still much to learn about COVID-19, but healthcare professionals know patients with pre-existing conditions have a higher risk of potentially deadly complications from the virus. If you're at-risk, social distancing is encouraged; however, you can't stay inside forever. You're going to need to see your dentist in Daytona Beach. It's normal to have a few concerns, but there's no need to worry. Here are the answers to 5 common questions asked by at-risk patients.
Safety Protocols for COVID-19
The symptoms of coronavirus vary in severity. In fact, some people don't even know they have it while others can develop life-threatening complications, especially the elderly, and those with heart disease, high blood pressure, and diabetes.
Essentially, any condition that lowers your immune system can cause more serious symptoms. It's important you're vigilant to protect yourself from illness. Although dental offices are already some of the cleanest places, your dentist in going the extra mile to keep you healthy. They are addressing the most common concerns of at-risk patients:
1. Am I at-risk of coronavirus?
Not all health conditions put you at a higher risk of COVID-19. If you have conditions that affect the immune system, you're more prone to serious complications, such as those with:
Lung conditions
Heart disease
Diabetes
Weakened immune system
Obesity
Chronic kidney disease
Liver disease
2. Should I still see my dentist during the COVID-19 pandemic?
Dental offices and business around the country have had to close their doors amid the COVID-19 crisis. You've spent more time at home to help combat the spread of the virus. As the country reopens, you can schedule your semi-annual cleaning and checkup. Despite the risk of the virus, it's best to maintain your appointment. With your oral and general health linked, a healthy mouth helps promote a healthy body to fight off illnesses.
3. Is it safe to visit my dentist?
Dental offices already have strict disinfecting and sanitizing standards, but they are raising the bar for cleanliness. They'll follow the guidelines issued by the ADA, CDC, and OSHA, so you can feel confident knowing the dental office is the cleanest place you will visit all day.
4. Should I wear a mask and gloves?
Personal protective equipment creates a barrier to reduce cross-contamination, but you'll be asked to leave your gloves outside the office. You can wear your mask in the office, but you'll need to remove it during your examination.
5. How can I social distance at the dentist?
Social distancing at the dentist is possible. Your dentist is scheduling fewer appointments and creating virtual waiting rooms to help keep patients separate. They've also implemented other changes to help you keep your distance.
Don't let COVID-19 prevent you from maintaining a healthy smile. Your dentist is keeping your safety a top priority.
About Dr. David R. Lloyd
Dr. Lloyd is a graduate of the prestigious University School of Dentistry. He strives for excellence, especially when keeping at-risk patients in our office safe. If you have any questions about our safety standards, or you need to schedule an appointment, contact our office today.
Comments Off

on 5 Concerns of At-Risk Patients, Answered
No Comments
No comments yet.
RSS feed for comments on this post.
Sorry, the comment form is closed at this time.