May 18, 2020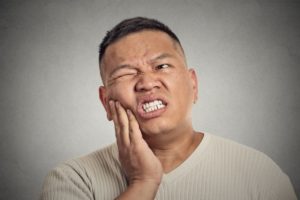 Have you been wondering "What constitutes a dental emergency?" Unfortunately, there are numerous ways we can find ourselves in need of urgent dental care. Knowing how to identify and react to a dental emergency can sometimes make all the difference in saving your smile. Find out which issues require immediate professional attention and which can wait a few days to be treated by your Daytona Beach, FL emergency dentist.
Dental Emergencies That Require Urgent Care
In severe dental emergencies, time is of the utmost importance. If your dental issue is extremely painful, could cause permanent damage, or may become life-threatening, you need to see your dentist as soon as possible. This includes emergencies like:
Uncontrolled bleeding in the mouth: Your dentist needs to identify the cause in order to stop the bleeding and protect the wound from infection.
Severely broken teeth: If a tooth is broken, the newly exposed sensitive inner layers of the tooth could become damaged or infected if not treated right away.
Loose or Knocked-out permanent teeth: Chances of successfully reattaching a knocked-out tooth diminish after 30 minutes, and a loose tooth is in danger of falling out.
Intense toothache or dental abscess: A serious dental infection can cause intense toothaches, fever, fatigue, and swelling. If left untreated, it can spread throughout the body and become life-threatening.
Facial bone trauma or jaw injury: Unless you are having difficulty breathing, you can visit your dentist to treat a jaw injury or other facial bone trauma.
Tips for Handling Non-Urgent Dental Emergencies
Any damage, pain, or issue in your mouth should be seen by your dentist right away. If neither you nor your smile is in immediate danger however, you may be able to wait a few days for treatment. Non-urgent dental emergencies include:
Objects stuck between teeth: Your dentist can help dislodge items from between your teeth. As you wait for your appointment, try flossing and using mouthwash to loosen the object.
Slightly chipped or cracked tooth: A damaged tooth needs to be repaired right away to prevent further damage and infection. You can protect a slightly damaged tooth with a piece of sugarless gum or dental wax.
Damaged or lost dental restoration (crown, filling, etc.): Depending on your situation, your dentist may encourage you to keep your vulnerable tooth clean, healthy, and intact until your appointment by eating soft foods, not chewing on that side, or covering it with dental wax.
Mild to moderate toothache: There are many effective ways to treat toothaches at home. Try applying ice, rinsing your mouth with saltwater, or taking over-the-counter pain relivers.
Aching, easily bleeding gums: These symptoms are typically associated with a serious bacterial infection known as gum disease. To keep it at bay until you can receive extra support from your dentist, floss daily and use a specialized antiseptic mouthwash.
We should always do our best to prevent dental emergencies with excellent oral hygiene and safe dental habits. However, knowing what constitutes as a dental emergency can help you act quickly and correctly to save your smile!
About the Author
If you or a loved one is experiencing a dental emergency in Daytona Beach, FL, don't hesitate to contact Indigo Dental. Dr. David Lloyd is a graduate of the prestigious Emory University School of Dentistry and an active member of several important organizations, including the American Dental Association and the Florida Dental Association. To help his patients overcome nearly any dental emergency, he is proud to offer a wide variety of treatments, including periodontal therapy, root canals, tooth extraction, and sedation dentistry. If you need urgent dental care, don't hesitate to contact him via his website or at (386) 253-3629.
Comments Off

on What Counts as an Urgent Dental Emergency?
No Comments
No comments yet.
RSS feed for comments on this post.
Sorry, the comment form is closed at this time.