August 21, 2019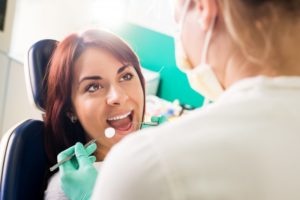 You've been incredibly anxious about seeing the dentist in Daytona Beach ever since you were a child. Eventually, you decided to just start avoiding your appointments altogether. All you really need to do is brush and floss every day, right? Unfortunately, it's rarely that simple. By not having regular dental visits, you're putting your oral health at great risk. Here's 3 consequences you could suffer without the dentist's help.
1. Higher Risk of Cavities Developing
There are lots of bacteria in your mouth that can eat through tooth enamel and cause cavities. These bacteria can create a layer of plaque that, if left alone, will harden into tartar. Brushing and flossing can remove a lot of plaque, but there are a lot of nooks and crannies in your mouth that you can miss without realizing it; without a thorough checkup and cleaning, tartar is likely to form, and you won't be able to get rid of it on your own.
The cavities resulting from plaque and tartar can develop without you noticing. By the time you start feeling pain or experiencing other symptoms, a lot of damage will already have been done. It's better to have cavities found as early as possible during a routine examination so that they can be treated more easily.
2. Bad Breath and Discolored Teeth
The bacteria on your tongue and teeth can cause bad breath if they're allowed to accumulate. Furthermore, many foods and drinks will stain your teeth, leaving them discolored. By having regular cleanings, the harmful particles and bacteria in your mouth are removed, leaving your breath fresher and your smile more dazzling.
3. Tooth Loss
A cavity that's left alone for too long eventually causes irreversible damage. Also, if your gums become infected (also known as gum disease) and don't receive treatment, eventually the bone in the jaw that the teeth are attached to will start to deteriorate. In both cases, you could ultimately lose a tooth or even multiple teeth.
Unfortunately, a tooth coming out might just be the beginning. The empty space will cause the remaining teeth to drift, resulting in alignment problems and a painful bite. Your jawbone will start to deteriorate as well, and your facial structure could collapse and make you look older as a result.
Regular checkups will reduce your risk of tooth loss, meaning you can avoid potentially severe health problems. You'll also be less likely to need additional, more costly treatment.
Don't let your dental fear in Daytona Beach hold you back from getting the care you need. Ask a dentist near you about sedation options that can help you feel comfortable during your appointment. Take the necessary steps to protect your smile!
About the Author
Dr. David R. Lloyd is a highly experienced dentist who always strives to provide families with the most advanced care possible. To help children and adults with dental anxiety, he offers nitrous oxide and oral conscious sedation that can keep patients relaxed during routine checkups, cleanings and procedures. To schedule an appointment, visit his website or call (386) 253-36929.
Comments Off

on 3 Reasons Why Dental Fears Shouldn't Keep You from Your Checkups
No Comments
No comments yet.
RSS feed for comments on this post.
Sorry, the comment form is closed at this time.