May 22, 2019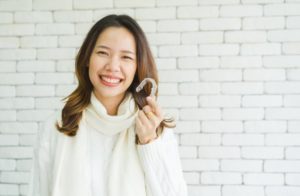 You've wanted straight teeth for years, but you always hated the thought of having metal brackets and wires covering your smile. Well, now your cosmetic dentist in Daytona Beach offers a more convenient alternative—ClearCorrect. This solution uses a revolutionary system of clear alignment trays that are practically invisible, removeable, and reliable as a way to get the results you want. Keep reading to learn five benefits to choosing ClearCorrect to straighten your teeth.
Increased Confidence
One major advantage of straightening your teeth is that you can have more confidence in a more appealing smile. So why would you want to wear bulky, obvious metal brackets and wires for years on end? Instead, you can adjust the alignment of your smile in a more subtle way. In fact, the trays are barely noticeable! Before you know it, you'll achieve the smile you've always wanted.
Freedom in Your Diet
Traditional braces entail a long list of foods that you need to avoid so that you don't interfere with your orthodontic treatment. With ClearCorrect, you are free to eat whatever you want! You simply remove the trays when you eat, and then brush and floss your teeth before putting the trays back in. It's that easy and straightforward.
Comfortable Trays
Even though modern brackets are smaller than they have been in the past, they can still rub or scrape your lips and insides of your cheeks. In contrast, ClearCorrect uses alignment trays made of smooth plastic that shouldn't impact these sensitive oral tissues. Now, you may still experience some soreness when you start treatment and then as you switch to each new set of trays, but that will subside.
Easier Oral Care
Crooked teeth create nooks and crannies for plaque and bacteria to hide and accumulate in. Sometimes it can be challenging to reach all these places. Straightening your teeth with ClearCorrect gives you the ideal setup for your teeth so that keeping them clean and healthy is much easier.
Plus, if you opt for ClearCorrect over traditional braces, you can maintain the same healthy oral habits as before without having to negotiate around the brackets and wires in order to remove harmful plaque. Treatment with ClearCorrect allows you to more easily avoid tooth decay than treatment with traditional braces.
More Efficient Function
When your upper and lower teeth don't fit together correctly, your teeth can face some unpleasant outcomes, including uneven wear on the enamel, jaw pain, or inefficient chewing. By resolving your bite's misalignment with ClearCorrect, you can make you natural teeth stay healthier for longer, alleviate any jaw pain, and gain added function in eating.
In the end, you can drastically improve your oral health and the way you feel about your smile through treatment with ClearCorrect. It offers benefits that traditional braces simply can't, making the choice as clear as the trays themselves. If you're finally serious about straightening your teeth, then don't wait any longer! Contact your dentist in Daytona Beach today to get started with ClearCorrect.
About the Author
Dr. David Lloyd has years of dental experience, many of which were spent serving in the U.S. Navy. In fact, he completed a general practice residency program at Naval Hospital-Oakland. Today at Indigo Dental, he continues to hone his skills through continuing education courses and offers ClearCorrect for his patients in Daytona Beach. To schedule an appointment with him, call (386) 253-3629 or click here.
Comments Off

on Want Straight Teeth? Choose ClearCorrect with Your Cosmetic Dentist in Daytona Beach
No Comments
No comments yet.
RSS feed for comments on this post.
Sorry, the comment form is closed at this time.