November 17, 2017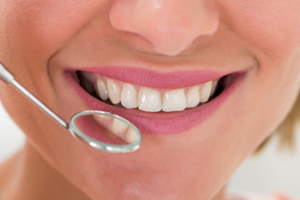 Every month, you pay premiums for your medical and dental insurance to receive affordable care. However, when it comes time to visit your dentist, you cannot use your medical coverage to pay for your dental work. Why? Although your oral health is directly linked to influencing your general health, you cannot use your healthcare policy to pay for dental treatments because it is not often seen as a primary medical issue. However, with your mouth indicating potential underlying health complications, it is important to use your dental insurance in Daytona Beach to visit your dentist regularly.

Connection Between Oral and Overall Health
Your oral health is directly linked to your general health. In fact, untreated dental issues can cause many medical complications to develop. Among the greatest threat is gum disease. This is an infection that occurs in the gum tissue that is caused by bacteria that results from poor oral hygiene.
When left untreated, it can lead to the eventual loss of your teeth; however, it can also result in health problems. The bacteria that is responsible for the infection can enter your bloodstream. As it circulates throughout the body, it can cause a wide array of issues to develop, such as cardiovascular disease, respiratory infections, and diabetic complications.
Your Mouth Can Indicate Health Issues
Underlying general health complications can also be detected in your mouth. In fact, 9 out of 10 diseases can produce symptoms in your mouth. Common indicators of untreated medical issues can include:
Gum, tooth, or jaw pain
Bleeding gums
Loose or lost teeth
Reoccurring bad breath
Sores, lumps, or abnormal patches in the mouth.
Benefit from Regular Care
Your dental insurance allows you to see your dentist in Daytona Beach twice a year for a cleaning and checkup for little to no out-of-pocket-costs. In addition to keeping your smile beautiful, the regular appointments also allow you to keep your oral and general health in check.
During the examination, your dentist will look for signs of health issues that could be impacting your teeth and gums, such as untreated acid reflux or oral cancer. In addition, they will monitor your dental health to ensure that is does not produce any complications for your overall health, like the development of gum disease.
Get a Healthy Mouth and Body
With your oral and overall health going hand-in-hand, it is important to visit your dental provider in Daytona Beach regularly. With a semi-annual appointment, you will help to promote a healthy mouth and body.
About Indigo Dental
Indigo Dental strives to provide down-to-Earth services that exceed your expectations. We understand that your dental and general health are connected to one another. To promote your overall well-being, we offer the services that you need to protect your teeth and gums from damage. We provide tailored solutions to improve your oral health. We will work with your insurance to help keep your out-of-pocket costs to a minimum. If you need a preventive appointment, contact our office today.
Comments Off

on Use Your Dental Insurance in Daytona Beach for a Healthy Mouth and Body
No Comments
No comments yet.
RSS feed for comments on this post.
Sorry, the comment form is closed at this time.